---
Mount Lavinia Hotel team who recently bagged 24 medals at the Culinary Art 2017 along with winners from the International Hotel School of Mount Lavinia
Mount Lavinia Hotel held an exclusive evening featuring the hotel's award-winning chefs partnering with Michelin Star Chef Tom Aikens in preparing a special dinner for a crème de la crème list of guests. The exclusive dinner was hosted by Mount Lavinia Hotel to celebrate the 150th anniversary of Ceylon Tea and as a part of the Ceylon Tea Festival. The Michelin Star chef worked closely with award-winning chefs from Mount Lavinia Hotel who recently bagged 24 medals at the Culinary Art 2017, the premier culinary competition, organized by the Chefs Guild of Lanka, which took place on 17th August 2017. This year, the competition featured 1,700 participants from 165 hotels vying for the various culinary accolades in the competition. Chefs from the hotel have been triumphing at every Chef's Guild competition, which reflects their high caliber of culinary talent and professionalism.
Commenting on the win at Culinary Art 2017, Mount Lavinia Chef Nirankara Niridu Fernando said, "We are delighted to win the Chef's Guild Competition in the same categories for the third year in a row. The competition was stiff but Chef Fernando and Chef Upul along with the other winners from our team did extremely well. I believe the support we had from the hotel staff, helped us to face all the challenges. Mount Lavinia's haul of medals at the competition truly mirrors the enormous culinary talent the hotel has."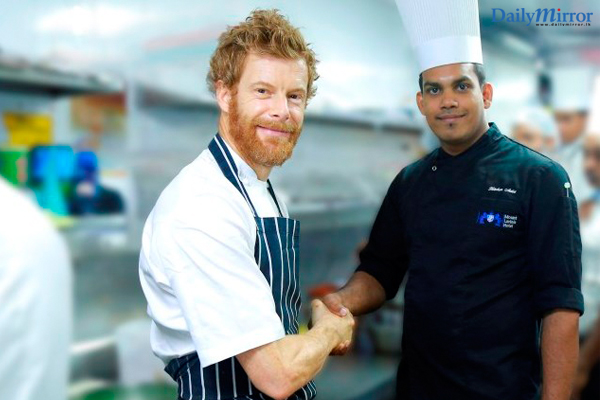 Michelin Star Chef Tom Aikens with the awarding winning Chef Fernando
Chef Nirankara Niridu Fernando won Gold for Artistic Pastry Showpiece (Sugar), 3 Silver Medals for Wedding Cake Structures, Artistic Showpiece and Individual Ice Carving; and 2 Bronze Medals for Butter Sculpture and Fruit & Vegetable Carving.
Commenting on his win, Chef Fernando also added that, "Working with Chef Tom Aikens on the special dinner that was held at the hotel recently was an interesting experience as he is a Michelin Star Chef, so we were able to learn some new aspects in sous vide cooking. The menu for the dinner highlighted unique and fresh ingredients, with no artificial colouring being used. The dishes tasted natural and delectable. We are so energized by the performance at the Chef's Guild and this privileged experience of cooking with a Michelin Star Chef that we would now like to compete in the Culinary Olympics!"
With a history spanning over 200 years, Mount Lavinia Hotel Colombo is one of the oldest hotels in Sri Lanka. This premier colonial heritage hotel in Colombo has earned a reputation over the years for its magnificent structure and ambience, the old world charm which harks back to the grandeur of old Ceylon, a romantic legacy left by the colonial Governor General who used it as his residence, the exceptional service offered by its well-trained staff and its popularity as a venue for weddings. Mount Lavinia Hotel offers a range of unique dining experiences amidst breathtaking views at its finest restaurants.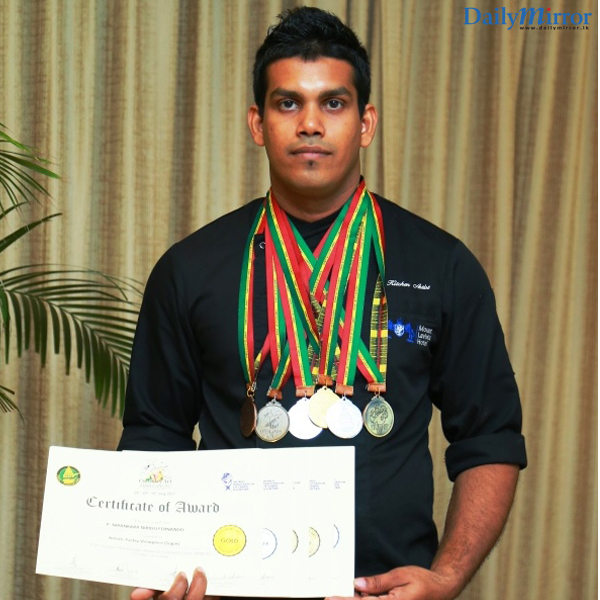 Chef Fernando with his achievements in artistic pastry showpiece, Wedding cake structures, artistic showpiece, individual ice carving and butter sculpture and fruit & vegetable Carving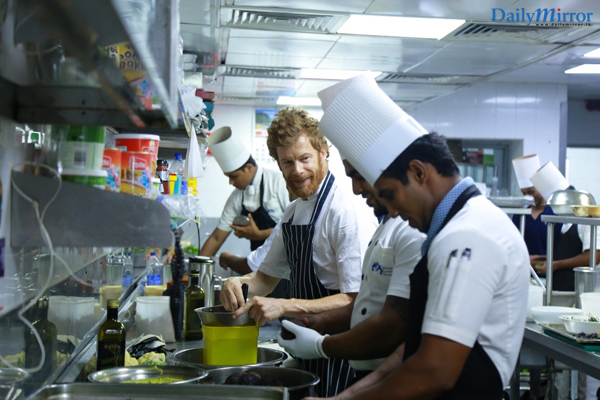 Michelin Star Chef Tom Aikens sharing tips with Mount Lavinia staff for the dinner
Award winning work