---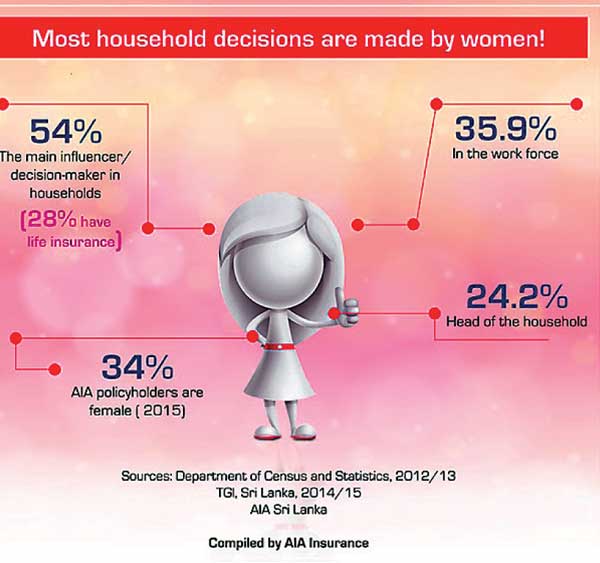 The International Women's Day was commemorated on March 8 but women in Sri Lanka are not hanging around to take charge of their households or their lives! According to recent research, 54 percent of the main influencers and decision-makers in Sri Lankan households are women.
Deemed the 'main shopper' of a household, this means that most purchase decisions and household activities are decided by her. So, be it compiling a nutritious grocery list, mapping out the next family vacation or purchasing insurance, it's safe to assume that the family's best interest will be prioritised.
It's also telling that out of the 54 percent of female decision-makers, over half of them had life insurance coverage (TGI, Sri Lanka, 2014/15). AIA has also noticed a rise in female policyholders, with almost 35 percent of AIA policies purchased by females in 2015. This indicates that their family's future protection is one of their main concerns. Whilst the need to safeguard a family's financial interest might seem relatively obvious, apparently women are proactive in doing something about it.

With a growing number of women entering employment, now nearing 40 percent of Sri Lanka's labour force, there is an even bigger onus on women to take charge and make positive decisions to ensure the health and financial well-being of their families. Then there are the one in four Sri Lankan households solely headed by women (24.2 percent according to the Department of Census and Statistics, 2012/13), where the financial consequences of their own well-being is even more critical to their dependants.

Securing your family's future is a key responsibility of any decision-maker. To ensure that you and your family live longer healthier lives, whatever real-life might throw at you, get in touch with AIA.