---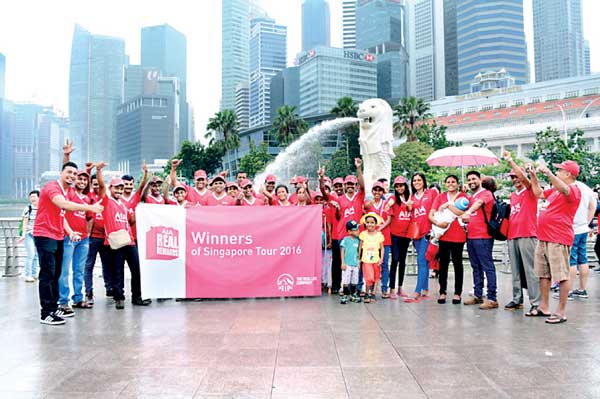 Picture shows the group of AIA holiday makers after sight-seeing some of the iconic modern art sculptures in Singapore at the Marina Bay Art Trail created by celebrated artists and sculptors from Singapore and around the world.
Every month, ten lucky AIA life policyholders get a pleasant surprise when the Company informs them that they have won a holiday package for two! What's more, they can choose from a choice of three destinations – Thailand, Malaysia or Singapore. Last month it proved to be a truly unforgettable holiday for a happy group of winners of the AIA Real Rewards draw. AIA Sri Lanka flew them off to Singapore for three wonderful days they would always remember. Some of the winners were accompanied by their young children, one aged just 7 months!

The group in bright red branded T-shirts visited iconic landmarks in Singapore and many took the opportunity to shop to their hearts content! The holiday package is AIA's heart-warming way of rewarding loyal customers, offering interesting opportunities to get more chances to win in the monthly draw.

Suren Perera, Head of Marketing said "As soon as you have purchased a policy from AIA you have a chance of winning. Rewarding policyholders for their relationship with AIA is one of the ways we recognize our customers and show appreciation for their loyalty."