---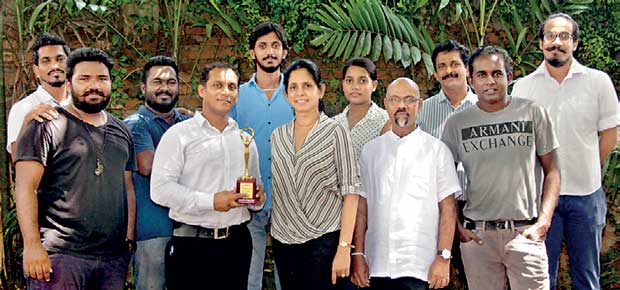 From left: Front row- Maleek Mufeen, Gordon White (Director) Dharshini Masilamani (Jt. Managing Director) Gamini Uduporuwa (Director) Chaminda Gamage (Director)
Back row - Jagath Welagedera (Account Manager) Buddhika Perera, Rasika Warigajeshta, Vijitha Hettiarachchi, Tharushan Fernando
Master's Advertising Ltd was presented with the 'Newspaper Professional of the Year' at the Asia Pacific Customer Engagement Forum and Awards (ACEF) in Mumbai, India recently.
"As a pioneer and veteran in the Sri Lankan advertising field for more than 50 years we are proud to be recognized for this press campaign which we created for the Bank of Ceylon", said Jt Managing Director, Masters, Dharshi Masilamani.
Specializing in brand building and strategizing, Masters will forge a step by step approach that covers pre-launch as well as post launch and every tiny detail in-between. Masters Advertising has lent its expert touch on many leading brands in Sri Lanka that have now gone beyond being a mere brand.
"The press campaign was created in order to capture a market of customers who did not have banking accounts. The campaign proved immensely successful as it resulted in acquiring accounts beyond the set target," said Masilamani.
At the helm of this ad campaign was Gordon White who has been with Masters Advertising for 10 years and was the recipient of the award at the ceremony in Mumbai at the Westin Hotel on the 29th of April. He has been involved in various arms of the company ranging from marketing and strategizing to client servicing and is currently a Company director and Head of Client servicing. Alongside him was the creative department whose expertise extends to all forms of media. Individual brilliance combined with team work has always been the guiding force for the creative department at Masters.
Founded in 2012-13, the ACEF programme is organized by a team of professionals from India, Srilanka and UAE and is guided by the advisory members from branding, marketing and creative agencies based in India, US, Australia, Singapore, UAE and Sri Lanka. Their programmes are focused on customer engagement activities, branding, marketing, CSR, rural marketing, properties (hospitality and real estate) and HR and are planned for India, Srilanka, GCC Continent and Asia Pacific regions. ACEF provides savvy convenience industry marketers with information critical for understanding their target consumers.