---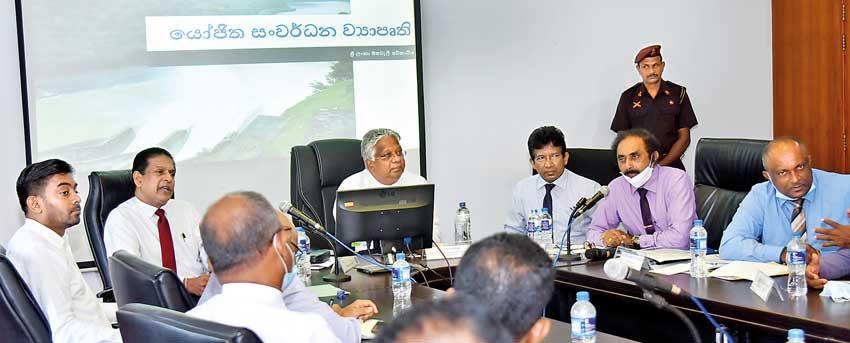 State Minister Siripala Gamlath (center) listening to views at the committee meeting
Says Mahaweli zones should be used for food production and also to strengthen residents' lifestyle
Prolonged land ownership disputes of people to be settled
State Minister of Mahaweli Zones, Waterways, Settlements and Public Infrastructure Development, Siripala Gamlath stated that his sole aim is to turn the Mahaweli zones into fulltime worksites and extend support to strengthen the national economy.

The Minister pointed out that every inch of land in Mahaweli zones should be used for food production and similar projects thereby reserving such lands to strengthen the lifestyle of
Mahaweli residents.

State Minister Gamlath was addressing the progressive committee meeting held at his ministry recently.

Officers attached to the Mahaweli Development Authority participated in the meeting.
Gamlath said a review would be carried out whether the targeted productivity is achieved by the investors who have already obtained Mahaweli lands and stressed that priority would be given to set up projects in Mahaweli zones in line with President Gotabaya Rajapaksa's 'Vision
of Prosperity'.

"When Mahaweli lands are released for investment, a broaden study should be conducted to ascertain to what extent such projects would be important to bring benefits to the settlers. When land is released for some investment, the main purpose of it is the prospective benefits that it creates for the Mahaweli settlers and its share for the national economy. Suitable projects should be selected for implementation in the area accordingly," Gamlath stressed.

"My aim is to maintain systematic food production in the Mahaweli areas with the blessings of Irrigation Minister Chamal Rajapaksa. At the same time, I hope to settle the prolonged land ownership disputes of the people living in the Mahaweli zones and give them freehold lands as soon as possible," he added.

The State Minister also instructed the officials to solve other land disputes of the people in the area.

In addition, Gamlath said the wild elephant threat has become a menace to Mahaweli settlers thereby creating a social issue. He said he wants to discuss that matter with the line ministries and find a solution. Secretary of the Irrigation Ministry, Anura Dissanayake, Mahaweli Zones Development State Ministry Secretary S. Senanayake, Director General of the Sri Lanka Mahaweli Development Authority, Engineer Sunil Perera and several officials of the Mahaweli Development Ministry and Mahaweli Development Authority participated in this progressive committee meeting.