---
AFP: Emmanuel Macron's victory in the French presidential election is 'good news' for trade-reliant Asia as it eases fears of rising protectionism in Europe, the International Monetary Fund (IMF) said yesterday.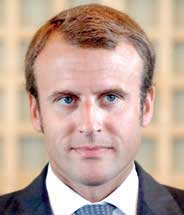 Changyong Rhee, director of the fund's Asia and Pacific Department, said Macron's win over far-right candidate Marine Le Pen, an economic nationalist, had made him more optimistic that major trade tensions would ease.
"If you asked me this question (on rising protectionism) three to six months ago, I would probably have answered that I am very seriously concerned on the possibility of trade tensions in the global economy," he told reporters in Singapore.
"But now I feel a little bit better," he added, citing a meeting between US President Donald Trump and his Chinese counterpart Xi Jinping last month and Macron's victory on Sunday.
"I think the result of the French elections really show that it's good news to open trade and globalisation, and it reduces the uncertainties of the eurozone," Rhee said. "So I think at this moment I am a little bit more optimistic that these trade tensions will resolve without bigger tensions." The IMF's latest economic outlook had flagged increasing protectionism in Asia's major trading partners and tightening global financial conditions as key downside risks to regional growth.
"Asian economies are particularly vulnerable to trade shocks... given the reliance of many Asian economies on exports, more protective trade policies would generate a significant negative impact on the region," said the report issued last month. It said the Asia-Pacific was expected to remain the world's fastest growing region this year and next, at 5.5 percent and 5.4 percent, but growth was 'clouded with significant uncertainty'.