---
By Shabiya Ali Ahlam
Sri Lanka, due to its strategic location, continues to be an obvious candidate to reap the plethora of benefits that stem from effective trade facilitation but requires a much serious effort in "grasping" opportunities, a top logistics expert said.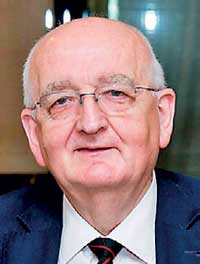 A.P.Moller-Maersk Group Senior Director Group Relations Asia Julian Michael Bevis, who was in Sri Lanka last week, asserted that while trade facilitation offers huge opportunities for the island nation, it will only benefit the economy if due emphasis is given on getting the operational environment for the industry right.
"Firstly we get the broad policy settings right. It is no good focusing on the often referred 'low hanging fruits'. We have to make sure we really do work together," said Bevis during the launch of Sri Lanka's first-ever country session for its exporters and businesses on the historic World Trade Organisation (WTO) Trade Facilitation Agreement (TFA).
The event was jointly steered by GATF and the International Chamber of Commerce Sri Lanka.
"We have to put in place mechanisms in a detailed level and at a political level, which will enable us to grasp those opportunities," he added, pointing out that the opportunities are dependent on the right commercial trade environment and regulatory environment.
As much as infrastructure development is about steel and concrete, it was emphasized that Sri Lanka must keep in mind that it is also about regulatory and legislative infrastructure.
"That has to exist to allow the opportunities to work and properly exploited," asserted Bevis.
Although the nation is strategically located, a feature that has been flaunted by successive governments but yet to capitalize, Bevis pointed that out no international business will enter unless it has a competitive advantage.
Further, he stressed that there needs to be a right climate of opinion across the industry.
"We need to get the policy settings at the top level right. We have to focus on using the market to regulate and not constantly reaching towards the regulatory lever. It must be left to the market to pick up."
It was also suggested that the industry must actively work towards developing platforms to allow information to be communicated consistently and electronically as it increases transparency.
Doing so would also wipe out the temptation for almost all the intermediaries and others to get their fingers in the process and cause all sorts of confusion, creating unnecessary cost, explained Bevis.