---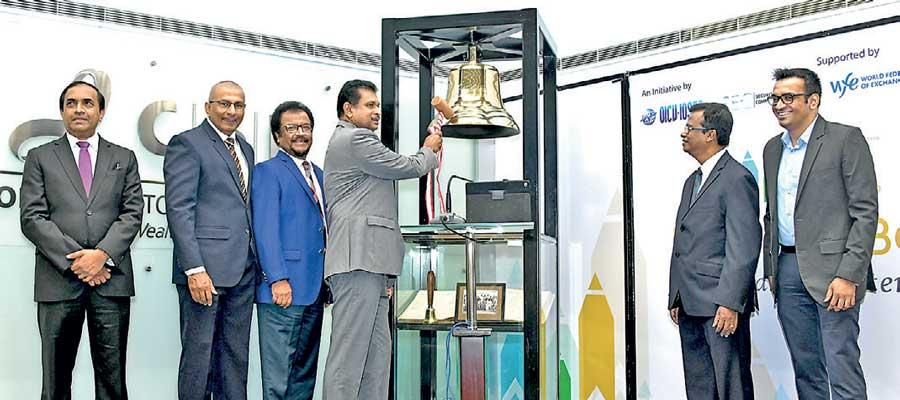 Marking the trading debut of Laugfs Power at the trading floor of the Colombo Stock Exchange (from left) CSE CEO Rajeeva Bandaranaike, CSE Chairman Ray Abeywardena, Laugfs Holdings Managing Director Thilak De Silva and Laugfs Holdings Chairman W.K.H. Wegapitiya
Pic by Nisal Baduge
By Nishel Fernando
Laugfs LPG terminal, a subsidiary of Laugfs Gas PLC, may begin the construction of the second stage of its state-of-the-art LPG transhipment terminal at the Hambantota Port by next April, increasing the capacity of the terminal by further 15,000 MT to support the firm's aggressive expansion plans into Myanmar and Kenya.

With an ambition to become an integrated regional LPG player in the Indian Ocean Rim area, Laugfs' 30,000 MT LPG import and export terminal came into operation in May this year.
"We are seasoning the terminal now. By next April, the operations will be much smoother.

If the necessity arises, we will be adding 15,000 MT in capacity under phase two," Laugfs Holdings Managing Director Thilak De Silva told Mirror Business on the sidelines of an event held to mark the equity Introduction of the group subsidiary, Laugfs Power Limited, at the Colombo Stock Exchange (CSE) yesterday.
In the second phase, the company expects to increase the capacity of its LPG transhipment terminal up to 45,000 MTs, which will allow very large gas carriers (VLGCs) to be accommodated.

The terminal currently supplies LPG to Sri Lanka and Bangladesh through the group's distribution network.

However, De Silva noted that it would be even relatively cheaper for the state entity, Litro Gas, to procure LPG from the Hambantota terminal, due to the competitive pricing.
According to him, Laugfs Gas has a 28 percent market share in Sri Lanka's duopoly LPG market.

In Bangladesh's LPG market, Laugfs holds an 18 percent market share through its subsidiary Laugfs Gas Bangladesh Ltd, according to the firm. Although its LPG distribution in volumes has increased significantly in Bangladesh, its market share has declined from 22 percent, mainly due to the rapid expansion in the market and due to the entrance of multiple new players to the market.

Speaking of the expansion plans to Myanmar and Kenya, De Silva said the company has decided to put off the plans until the conclusion of the upcoming presidential elections in November. In Myanmar, he said that the company would be exploring the possibilities of acquiring or partnering with a firm, which already possesses the required licences to distribute and import LPG.

Laugfs is looking at bulk LPG supplies initially to Kenya and Eastern Africa.

The full investment for the LPG transhipment terminal is estimated at US $ 85 million. The company has obtained a US $46.2 million loan from People's Bank and a US $ 20 million loan from China Export and Credit Insurance Corporation.