---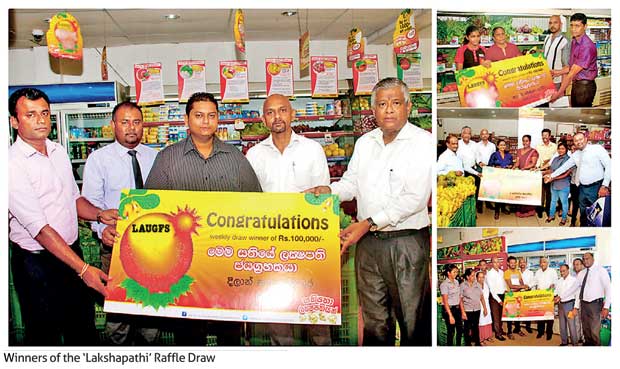 Laugfs Supermarkets chain concluded its 'Lakshapathi' Raffle Draw conducted over a 45-day period, featuring cash prizes worth Rs. 100,000 and a daily total bill wipe-off opportunity, in a bid to reward loyal customers.
Laugfs Supermarkets' customers who purchased goods over Rs. 1500, including four nominated brands, stood a chance to win either the daily total bill wipe-off or the weekly cash prizes. The Lakshapathi Raffle Draw concluded crowning the four cash prize winners; Kanthi Dulweera, Dilan Nanayakkara, J. Bopitiya and Mr. K. G. S. L. Fernando, who each won Rs. 100,000.
Commenting on the initiative, Laugfs Supermarkets Director / Chief Executive Officer, Ravi Dahanayake remarked, "Customer engagement has become a frequent reference in the current business environment, but as a truly Sri Lankan company we go beyond that and constantly strive to serve our customers in a meaningful way. The Lakshapathi Raffle Draw was conducted to celebrate and reward the unwavering loyalty of our customers."
Extending his appreciation towards Laugfs Supermarkets employees Dahanayake further added, "In line with our customer centric approach, our staff provides an excellent level of customer service carrying out their duties with dedication and integrity."
Laugfs Supermarkets chain is renowned for offering fresh fruits and vegetables as well as a plethora of high quality consumer goods at the retail outlets in Colombo and suburbs.
The supermarket chain serves over 650,000 customers and employs over 750 staff members. Laugfs Supermarket chain offers a modern and a convenient one-stop shopping experience to customers with services that include bill payment facilities, fresh baked goods and much more.
In addition, the supermarkets allow customers the value added facility of making purchases using the 'Vardhana Wallet' and offers distinctive benefits through the 'Labandiyawa' customer loyalty card. Laugfs Supermarkets was also the first such chain to introduce 24 hour retailing to Sri Lanka.
LAUGFS is one of the largest diversified business conglomerates and a trusted name in Sri Lanka. Founded in 1995, Laugfs today has expanded across 20 industries in Sri Lanka and overseas, establishing a strong presence as a leader and pioneer in the power and energy, retail, industrial, services, leisure, logistics and real estate sectors. With over 4,000 employees and an annual turnover exceeding Rs.28 billion, Laugfs continues to expand and empower millions as a trusted Sri Lankan brand.