---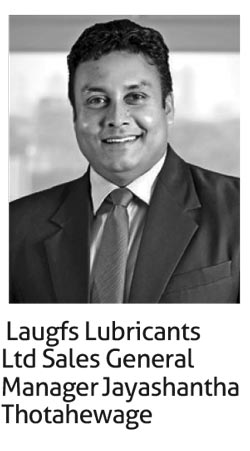 In a bid to provide advanced technological support to the fisheries community, Laugfs Lubricants introduced its latest oil blend, Laugfs 'Power Outboard3' oil, specifically designed for all water cooled high performance two stroke marine outboard engines including the latest designs under warranty protection.

This TCW3 (two-stroke engine) oil is produced with a blend of highly refined mineral base oil and an ashless additive system which provides combustion efficiency, protection against power loss and bearing wear as well as piston scuffing. TCW3 lubricants such as Laugfs 'Power Outboard3' oil provide increased efficiency and protection to two-stroke marine engines while reducing emission.
Commenting on the new product, Laugfs Lubricants Sales General Manager Jayashantha Thotahewage said: "Our penchant for quality and advanced technology has steered Laugfs Lubricants to become an industry leader within a short period of time. Our competitive edge over other industry players further strengthened following the establishment of our state-of-the-art manufacturing facility at the BOI Zone in Malwatta. We strive for excellence in manufacturing standards and production quality through consistent research and development."

"In 2016, the automotive and industrial lubricant sector in Sri Lanka grew by 11.4 percent, which bodes well for the industry. We will leverage on this positive trend by providing high quality lubricants at an affordable rate. I believe that we are well on our way to become the leader in the country's lubricants industry. The introduction of Laugfs Power Outboard3 oil is yet another step in this direction," elaborated Thotahewage, an industry veteran with over two decades of experience in the local Lubricants market.

TCW3 lubricants reduce the mixture ratio to fuel while extending the life of the engine enabling fisheries industry to reduce costs and increase efficiency. This advanced technology offers a plethora of benefits to consumers, specifically the fisheries sector in Sri Lanka.