---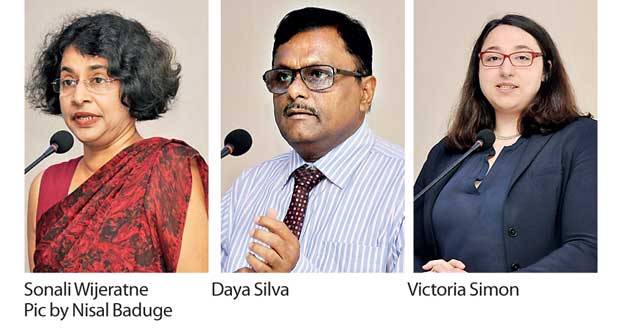 By Chandeepa Wettasinghe
Sri Lankan bureaucrats and economists are currently undergoing training on how to better negotiate free trade agreements (FTAs) and set up effective trade policies at the Miloda Academy of Financial Studies, under an International Trade Centre (ITC) event backed by the European Union (EU).
"This will enable the negotiators to find the best way to negotiate FTAs. We had a similar programme from 2005 to 2007 but this is deeper, more comprehensive and includes all aspects of the economy," ITC Associate Programme Adviser Victoria Simon said yesterday.
Sri Lanka is conducting FTA negotiations with China and Singapore and a deeper economic partnership to expand the FTA with India, while the initial negotiations and feasibility studies are being conducted for FTAs with Malaysia and Bangladesh.
The government is hoping to sign even more FTAs with other regional economies.
Sri Lanka's FTA negotiations have drawn increased scrutiny in recent times, which Commerce Department Director General Sonali Wijeratne highlighted and said that better tools and training to negotiate better agreements would be welcome.
"The Department of Commerce has seen a dire need for this kind of inclusive approach, looking at the various media reports, pressure groups and the number of people talking of free trade agreement," she said.
She added that the workshop would be just the start, providing a theoretical approach, which will be complemented by empirical approaches in the future.
The workshop introduces some economic models and theories relevant to international trade policy formulation and the training is conducted by World Trade Institute, Switzerland Postdoctoral Researcher Eddy Bekkers.
The event is funded through the eight million euro EU grant to increase Sri Lankan small and medium-sized enterprise (SME) exports to the EU and Sri Lanka's neighbours in Asia.
The EU programme aims to improve Sri Lanka's trade policies, enhance cross-border procedures and enhance the compliance of cross-border procedures for SMEs, increase SME export competitiveness and improve export qualities to meet sanitary and phytosanitary measures of foreign markets.
Spices, food and ITO/BPO industry competitiveness will be featured heavily in the programme, since the EU believes that these industries could competitively provide goods and services to the EU citizens.
"This could not have come at a better time, as GSP Plus was granted to Sri Lanka by the EU recently," ITC Colombo Office National Coordinator Daya Silva said.