---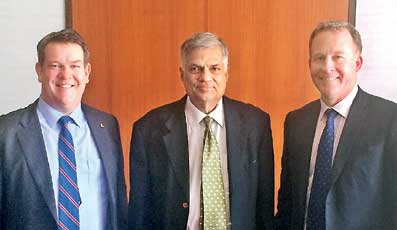 A high-level busines s delegation headed by Tasmanian Premier Will Hodgman and Tasmanian Minister for State Growth, Energy, Environment, Parks and Heritage Matthew Groom visited Sri Lanka from September 8 to 10, 2016. The first of its kind, Tasmanian government-led delegation included senior government and business leaders from the Tasmanian tertiary education and vocational training sector, renewable energy industry, maritime and advanced manufacturing industries and tourism and hospitality experts.
This delegation was part of the Tasmanian Government Trade Mission to the Subcontinent where they visited New D e l h i , M u m b a i a n d Thiruvanthapuram in India. To build stronger commerce links and explore these opportunities, Tasmanian and Sri Lankan business leaders got together for a unique chance to exchange ideas and explore opportunities at a dedicated business growth event run by the Sri Lanka Australia New Zealand Business Council (SLANZBC). This presented a not-to-be missed opportunity to build strong foundations for ongoing partnerships between Tasmania and Sri Lanka
This networking event had Ceylon Chamber of Commerce Chairman Samantha Ranatunga address the esteemed gathering along with SLANZBC President Manjula Lanerolle, who provided a brief overview of the SLANZBC. Australian Deputy High Commissioner Tim Huggins also addressed the meeting with the closing address by Hodgman. Hodgman described this as a historic moment as this was the first time that a Tasmanian premier had led a trade and investment mission to Sri Lanka. Earlier in the day, Hodgman had a delightful meeting with Prime Minister Ranil Wickremesinghe and met with Foreign Affairs Deputy Minister Harsha De Silva. While the discussion was wide ranging it centered on the similarities and differences of the two islands, including renewable energy opportunities and thoughts on international education. Hodgman said he hopes that this first-ever visit to Sri Lanka by a Tasmanian government would be the beginning of partnerships that would last into the future.
The delegation also called upon Skills Development and Vocational Training Minister Mahinda Samarasinghe. They also had a meeting with Jayantha Dharmadasa, Vice President, Mohan de Silva and Ashley de Silva, CEO, Sri Lanka Cricket. During the day, the delegation also visited the Skills Development and Vocational Training Ministry at parliament. The parliament visit concurred with a meeting with Thilanga Sumathipala, Deputy Speaker, Chair of the Australia-Sri Lanka Parliamentary Friendship Group and President of Sri Lanka Cricket. Besides being a world-class international education and tourism destination, a preferred producer of safe and premium food and a desired destination for migration and investment, Tasmania is a world leading source of expertise in agribusiness, aquaculture, energy, high-value manufacturing and services.
This is Tasmania's value proposition to the South Asian region. The way forward required that they promote these comparative advantages across specific sectors and markets in Sri Lanka and this drives the Tasmanian government's long-term approach in engaging the region. As an island with an area of around 68,000 square kilometers as compared to Sri Lanka's 65,000 square kilometers, Tasmania shares Sri Lanka's strong connections to the sea. They recognize opportunities for targeted education programmes around maritime, marine sciences and shipbuilding. Tasmania, through Entura is already contributing to Sri Lanka's comprehensive energy reform aspirations and the development of its sustainable energy sector.
Tasmania's exports to Sri Lanka were worth AS $ 35.7 million in 2015, led overwhelmingly by milk and cream commodities. Although Tasmania and Sri Lanka currently have a modest and narrow merchandise trading relationship, Sri Lanka is Tasmania's 14th largest merchandise export market, ahead of the UK, Canada and Germany, Tasmania, Australia's only island state, located at Australia's south coast, is delivering significant investment in education, resources, tourism and innovation. The Australian state of Tasmania hopes to initiate and establish government, business and sporting ties with this visit, giving the subcontinent direct access to this growing region. As island economies of a similar size Sri Lanka and Tasmania share some of the same challenges, and can share both their common and unique experiences to together build on their respective strengths. While there has been some level of trade and investment between Sri Lanka and Tasmania for many years now, the Tasmanian government-led delegation to Sri Lanka presented a not to be missed opportunity to build strong foundations for ongoing partnerships. The highly successful networking event concluded with business matching meetings and interactions. As Sri Lanka's economic development continues Tasmania is well placed to offer new opportunities to Sri Lanka with a world–class international education and tourism sector, a reputation for safe and premium food and a sought-after lifestyle and destination for education and investment. The meetings with the Sri Lankan government and business officials seek to deepen economic links while showcasing what the pristine and innovative island state of Tasmania can offer Sri Lanka. This trade delegation was one more step in building Tasmania's place in Asia and introducing Sri Lanka to what surprises Tasmania has to offer.
Promote tourism via cricket: Boon
""By Shabiya Ali Ahlam As Sri Lanka is on the lookout for an effective strategy to present its tourism offering on the world stage, visiting ICC referee and former Australian batsman David Boon noted the island nation could successfully promote itself using cricket, an element the country has always been well known for.
According to the veteran cricketer, who is well known for his portly figure and distinctive moustache, Sri Lanka is popular today largely because of cricket, which is the point of connection for recognition. "Sri Lanka cricket is known all over the world. Players like Kumar Sangakkara, Mahela Jayawardene and Aravinda de Silva are synonymous with the game and are instantly recognized. "They all speak very highly of their home country and represent their nation really well. They would be accepted anywhere as ambassadors to introduce the country to formulate ties among countries for tourism purposes," opined Boon, while speaking to Mirror Business in an exclusive interview during his recent visit to Sri Lanka as Tasmania Cricket Ambassador. Boon was in Sri Lanka for Tasmania South Asia Mission 2016, where he accompanied Tasmania Premier Will Hodgman and State Growth, Minister for Energy and Minister for Environment, Parks and Heritage Minister Matthew Groom, to boot cultural ties between the two countries through cricket. During the short visit, Boon and the visiting delegation met with the Sri Lanka Cricket Board. While recognizing the recent players, Boon stated that it is imperative for the relevant authorities to not forget the older players who foremost presented the nation in the international arena. "They should not be forgotten. They were going into the unknown and they are one of the key reasons why Sri Lanka cricket is enjoying its position today. "Roshan Mahanama, Aravinda de Silva, Arjuna Ranatunga and even Peter Manuel – they are the ones who formulated a pathway so that Sri Lanka could be shown on the world stage. They should not be forgotten," he stressed. When questioned as to who is the promising player in Sri Lanka's current team, Boon stated there is no way he could individualize a player but said the members representing the country throughout the years continue to grow from strength to strength. "In the time frame Sri Lanka has been a Test and international member in world cricket - for them to achieve what they have and produce the number of quality players is pretty special," commented Boon. PIC BY DAMITH WICKRAMASINGHE