---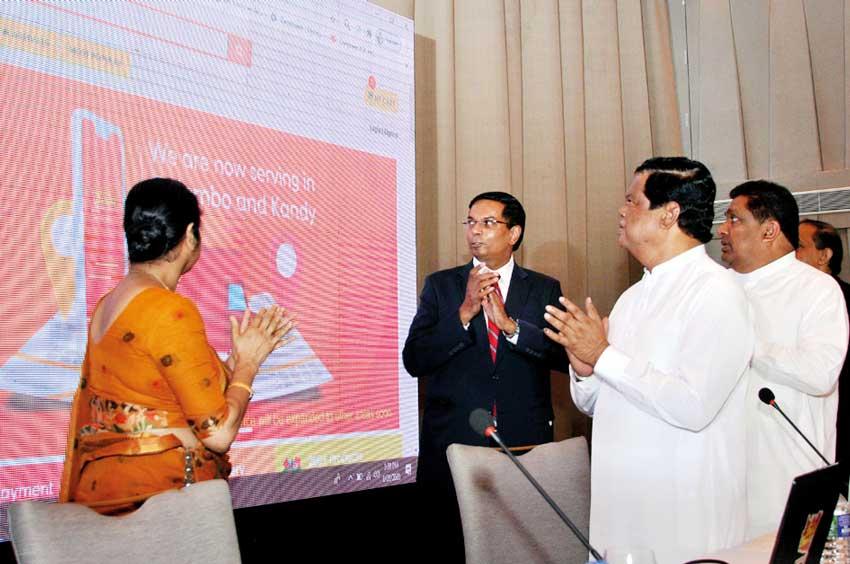 Trade Minister Bandula Gunawardana, Cooperative Services, Marketing Development and Consumer Protection State Minister Lasantha Alagiyawanna, Lanka Sathosa Chairman Nushad Perera and other officials at the launch of Lanka Sathosa online platform.
Pic by Nisal Baduge
Keeping up with the ongoing digital trend, State-managed retail chain Lanka Sathosa, launched its online shopping platform yesterday.
The platform, designed in partnership with Sri Lanka Telecom, is currently live for the Western Province and the Kandy district.
Lanka Sathosa Chairman Nushad Perera shared that in the coming months the presence will be expanded depending on the available capacity.
Listed on the website are over 300 products under a number of categories, including food items, confectionery products, self-care products, and stationeries among others.
Under phase one, orders made via the website will be delivered for free-of-charge to encourage users, and will be delivered within the same day.
Under the second phase, a delivery fee would be charged but would not exceed Rs.200.
Meanwhile, payments for the same would need to be made online via credit and debit cards. However, a system to facilitate cash on delivery (CoD) is being formulated.
Addressing the launch event, Perera said that the objective of going online is to cater to the growing generation of tech-savvy customers, while capitalising on the rising demand for online services in the country.
Sathosa's online shopping platform can be accessed via www.lankasathosa.lk