---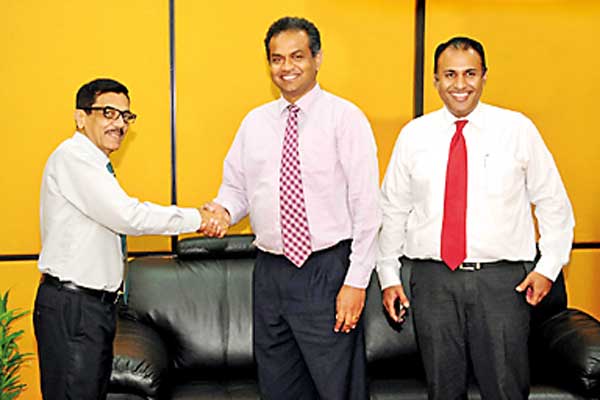 Director General of the Telecommunications Regulatory Commission of Sri Lanka (TRCSL) Sunil S. Sirisena (extreme left) congratulates Managing Director of Lanka Bell Dr. Prasad Samarasinghe on achieving the milestone of 15,000 Bell4G subscribers. Also in the picture (extreme right) is Rishad Mansoor, General Manager - Sales & Marketing of Lanka Bell.
Lanka Bell, Sri Lanka's largest fixed wireless operator announced this week that it has achieved the milestone of providing 4th generation internet connectivity (marketed under the BELL4G brand) to 15,000 households and businesses since the Company launched its 4G LTE digital network.
"Lanka Bell has been able to achieve this significant milestone purely due to its superior quality service, a better consumer experience and for being the operator with the lowest tariffs in the market by offering attractive packages which charge just Rs.19 per GB," said Lanka Bell's Managing Director Dr. Prasad Samarasinghe.

Lanka Bell first launched the service in February 2014 on the bands of 2300 MHz, initially in parts of Colombo before providing a wider coverage for the entire Western Province the same year. Today Bell4G is the fastest growing 4G network in the country and covers all major towns in the island as well with households and businesses across the country opting for Bell4G.
4G LTE technology is about five times faster than 3G technologies and Lanka Bell has been extensively working on improving the quality of service and 4G network as the consumer intake is increasing at a rapid pace. Lanka Bell which is also the largest fixed phone wireless operator with a digital wireless network has been able to sustain the market momentum due to its attractive tariff packages.

The Starter Pack provides 50 GB at just Rs. 950, Intro Pack offers 70 GB at Rs. 1350 and the Family Pack of 140 GB for a rental of Rs.3500.

The Bell 4G Broadband package is considered an ideal option for homes and small business, since over 20 individuals can access the internet on any smart device simultaneously without interruptions in the service," Dr. Samarasinghe added.

Furthermore BELL 4G subscribers who have been with the network for a period of one year will receive an additional 5GB free monthly and with 2GB being added on monthly for every year for the following three years of subscription. At the end of 4 years, BELL 4G customers will receive 11GB absolutely free on a monthly basis under this loyalty scheme.

"The island wide expansion of 4G not only demonstrates Lanka Bell's leadership in delivering cutting edge technology and innovation in this market but emphasises our commitment to enable as many Sri Lankans as possible to access the Internet in keeping with the country's National Digital Policy," Dr. Samarasinghe added.

Supported by a dedicated team of professionals with international expertise, local knowledge and strategic investments in low-cost cutting edge technology, Lanka Bell presents an assortment of value-added high speed broadband and voice services at unbeatable rates to its customers across the country.

As the pioneers of fixed wireless telephony who introduced CDMA technology to Sri Lanka in 2005, Lanka Bell revolutionised the telecommunication landscape by providing all Sri Lankans (including the rural populace) the opportunity to enjoy the very best in telecommunication connectivity.