---
Laila Gunesekere-Martenstyn was recently honoured with a Gold Award for her Extra Ordinary Contribution to the industry by the Women in Management organisation. The award recognises Laila's lifelong dedication to the upliftment of the advertising industry through her efforts to foster creative growth, training and for nurturing numerous top local and regional brands to maturity.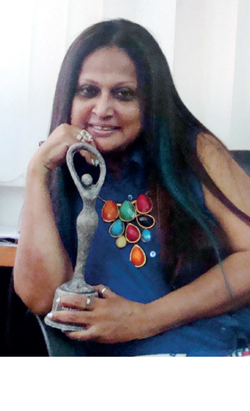 Laila has twice held the Presidency of the 4A's, twice and currently the President of the IAA, voluntary lecture on advertising at SPAACS, member of the founder board of Chillies awards and project chair on countless industry related workshops and competitions as well as a judge at SLIM, Effie and Chillie Awards Locally& Spikes Awards internationally. Laila's contribution to the industry has been tremendous and consistent making her the Women In Management winner for Extra Ordinary Contribution to the industry.
"To be truly successful in your field you need to immerse yourself 100% into your company, your clients, the industry, and future generation of advertising hopefuls" she said. A multi dimensional, multi-tasker all her life, she has always worked for Grant McCann Erickson moving from the very bottom of the ladder to virtually, the top. "Loyalty is key and working for one place is not for everyone, but it has worked well for me!" she said.
A multi award winner the most prestigious is being the ABP Global Super Achiever and her favourite being a plaque of appreciation from the students of the deaf and dumb school. Laila is today poised on the threshold of adding a few more dimensions to her already diverse life.
The Women in Management organisation is dedicated to further the professional development of managerial and entrepreneurial women currently employed in established careers, which include managerial responsibilities, through the association of its members, through educational and training opportunities, and through the exchange of knowledge and experiences. The entity also recognises higher standards and to increase the status, authority, and influence of managerial and entrepreneurial women.