---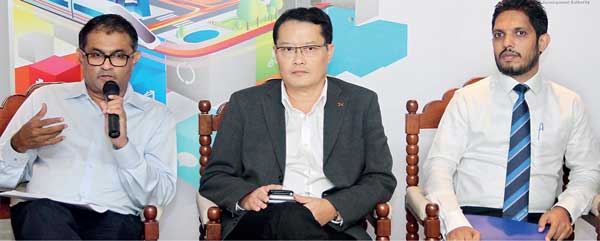 From left: LBO Publisher Lakshaman Bandaranaike, Colombo Port City Chief Sales and Marketing Officer Liang Thow Ming and Insurance Lanka Ltd Market Management Manager Dinuka Herath
Pic by Pradeep Dilrukshana
By Zahara Zuhair
To provide insights and create a platform to discuss about the challenges and opportunities of the ongoing Western Region Development and Colombo International Financial Centre projects, LBR LBO Infrastructure Summit 2016 is scheduled to take place on September 20 and 21, 2016.
The summit themed 'Realising the transformative power of the Western Region Development - Opportunities and challenges', expects to bring over 25 local and foreign experts from variety of disciplines.

Noting that Colombo is one of the most liveable city in the South Asian region, Colombo Port City Chief Sales and Marketing Officer Liang Thow Ming said that the proposed infrastructure developments would further enhance the city as a major hub in this part of the world. "As a project, we are indeed excited to be part of this growth. We strongly believe that we can be a catalyst to the development of the Western Megapolis and become an internal part of the Colombo skyline," he said.
Lanka Business Online (LBO) Publisher Lakshaman Bandaranaike said that the Western Region Megapolis Project will induce a transformative impact on the physical landscape and build environment, industry and economy, liveability and the nation's standing in the international arena.
Stressing the importance of private sector participation in the projects, he said that the summit will create a transparent discourse to give a clear understating to the private sector about the opportunities, as most of them are not aware of the nature, scale and scope of these projects.
He also said that while adopting international practices, it is important to involve oversees Sri Lankans and attract international talents as well. The summit also aims at creating a discourse that will promote Western Region Development and Port City as high potential investment destinations, attract leading global and regional business to Sri Lanka and identify possible pitfalls and barriers that could compromise the quality of execution.

It also expects to highlight on bridging the gap between vision and action, designing intelligent, viable and sustainable mobility solutions and housing for cohesive urban communities.