---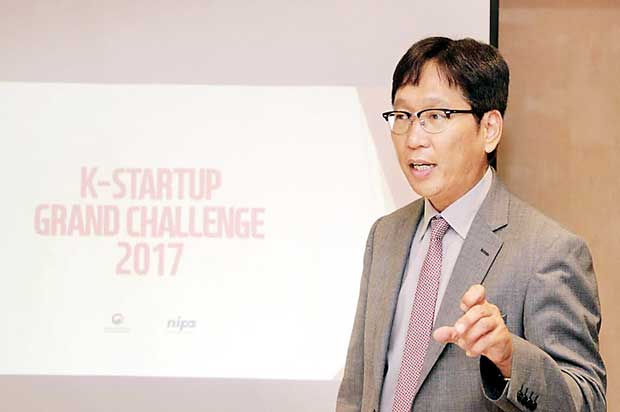 NIPA India-Korea SW Cooperation Center Executive Director Caleb Lee Kyung-hwan
Pic by Pradeep Dilruckshana
By Shabiya Ali Ahlam
Sri Lankan startups are presented with an opportunity to receive a further boost this year with the Republic of Korea announcing the '2017 K-Startup Grand Challenge' in Colombo yesterday.
The K–Startup Grand Challenge, an initiative of National IT Industry Promotion Agency (NIPA), is a project conducted and financed by the Korean government.
The global startup event offers technology based startups that have a prototype or product service catering to various industries, a chance to enter the Korean market and further expand its reach to global customers.
The key focus of the K-Startup Grand Challenge this year is to promote collaboration and exchange of ideas between South Asia and Korea. According to visiting NIPA India-Korea SW Cooperation Center Executive Director Caleb Lee Kyung-hwan, a plethora of exciting opportunities await participants who will get an opportunity to showcase their entrepreneurial spirit. "We are eagerly looking forward to tap the enormous potential that lies in South Asian startup ecosystem and expecting to receive a large number of applications from this region," said Kyung-hwan.
He added that with Sri Lanka's improving startup ecosystem, the event is an ideal platform for local entities to showcase their potential and establish successfully in the fast growing Asian markets. In this year's programme, the top ranked 50 teams will be invited to participate in a four-month accelerating program in the state-of-the-art Pangyo Techno Valley, located south of Seoul.
The selection panel will give priority to startups working on disruption in 17 categories, but will also consider startups with brilliant ideas in any sector.
Key focus will be on technology based start-ups that have a prototype or product/service at initial investment stage. Eligible to apply are those established within the past five years.
On the 'Demo Day' and settlement program that will be held in December, 25 companies will be given the opportunity extend their work and stay in Korea for additional six months. For this the Korean Government will extend a grant of US$ 27,000 to the top 25 startups if they choose to establish a business entity in Korea.
The shortlisted teams will receive mentoring support from some of Korea's leading Multinational Companies, such as Samsung, Hyundai, and SK to name a few, to expand into Korean and Asian markets.
While each member of the top 50 startup teams (up to two members) will receive an audition price of US $ 833, the challenge winner will walk away with US$ 100,000. Second place will receive US$ 40,000, third place US$ 20,000 and fourth place will receive US$ 6000.
Furthermore, five accelerators in Korea will make equity investments in the most promising startups. The K - startup Grand Challenge 2016 received over 2400 applications from 124 countries. Over a period of four months, investments of US$ 5.55 million were made by domestic and international sources.
2016 K-Startup Grand Challenge offered the winners a host of benefits including grants, free office space and entry into an acceleration programme and more. 13 local corporations and branches were established as a result of the event. Around 33 deals were signed with local/overseas companies along with 125 MoU and partnership activities.
Applications for the K - startup Grand Challenge 2017 will close on June 14th. Interested parties can apply for the challenge online through http://k-startupgc.org/.