---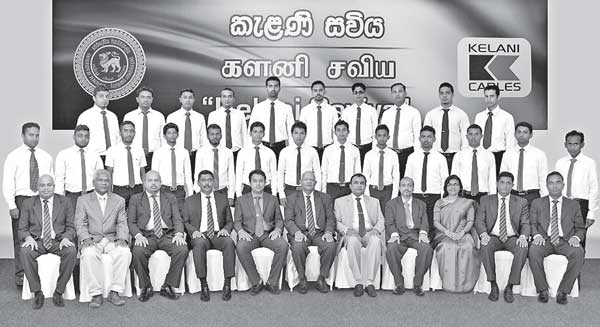 Twenty three students of 'Kelani Saviya' seventh batch received certificates at a ceremony held at Clarion Hotel in Kelaniya recently. Kelani Saviya is a unique corporate social responsibility (CSR) programme launched by Kelani Cables PLC, Sri Lanka's number one brand in secure electrical and communication cables in association with the engineering faculty of the Peradeniya University since 2007. Kelani Cables PLC Director/CEO Mahinda Saranapala and Peradeniya University Vice Chancellor Prof.
Upul S. Dissanayake graced an occasion to hand over the certificates to the successful students of yet another batch of 'Kelani Saviya'. Over 250 students have followed the Kelani Saviya programme and obtained certificates and rendered their services to the country since 2007. Kelani Saviya, the brainchild of Prof. Janaka Ekanayake of the University of Peradeniya, was commissioned in 2007 with signing of the Memorandum of Understanding (MoU) between Prof.
S.B.S. Abeykoon, former Vice Chancellor of Peradeniya University and Hemantha Perera, former Managing Director, Kelani Cables PLC. According to the stipulated terms and conditions, the MoU was to end in 2012. However, a fruitful discussion between Kelani Cables PLC Director/ CEO Mahinda Saranapala and the university authorities made the programme to be extended for a further period of five years that is till 2017. Saranapala said this was the very first time that a private institution in collaboration with a national university has conducted such a unique CSR for period as long as nine years. This social hospitality done with no commercial motive what so ever has gained high recognition and measures has been taken to extend the programme to Jaffna University under Kelani Shakathi programme. Kelani Saviya Course Director Prof. Manjula Fernando representing Peradeniya University Head of Electrical and Electronic Engineering Department Prof. Janaka Ekanayake making the welcome speech said commencing as a result of a MoU signed in 2007 the Kelani Saviya programme has become one of the most prominent CSRs in the country today. Dr. Chanaka Senanayake
speaking at the event representing Engineering Faculty Dean Prof. L. Rajapakse expressed his gratitude to Kelani Cables for continuously conducting the programme for nine long years. Dr. Senanayake also appreciated the perseverance showed by the students in completing the course which consist of three difficult exams. Kelani Cables General Manager Marketing Anil Munasinghe said he will take the responsibility of providing employment to all Kelani Saviya pass outs as there was a huge demand for them from the corporate sector. He also said they were in the process of forming alumni of past Kelani Saviya students, which will interacted very soon.