---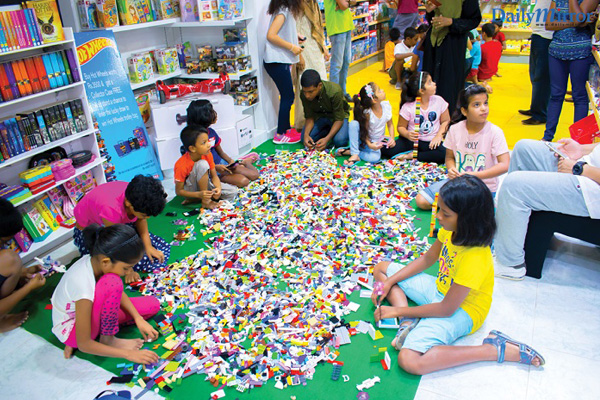 LEGO® Day has once again thrilled children and parents alike with enthralling activities that brought families together and entertained them for hours on end. This completely immersive experience was organised recently by Kiddies & Toys International (KTI) at their latest store Cool Kidz located on Duplication Road. The event attracted 300 people of which over 100 were children.
Commenting on the highly engaging event Ms. Dilsha Ruwanpathirana, Head of Strategic Business Unit – Toys,Kiddies & Toys International,said, "Just like the children we look forward to this event every time. It gives us a chance to see the positive effect LEGO® has, not only on the children but the entire family. LEGO's undying popularity is a testament to its unique combination of logic and unlimited creativity that makes it a favourite of both parents and children. We have enjoyed bringing these events to the families of Sri Lanka and look forward to many more."
In addition to the usual "Best Builder" challenge, which allows children the opportunity to showcase their LEGO building skills with an unlimited number of bricks, were two new challenges that tested the children's creativity and ability to collaborate. The first allowed children to be creative with a limited number of bricks and the second allowed their parents to join in on the fun by having them collaborate with their children on a project.
Winners of the respective challenges took home a LEGO set to continue the adventure at home but everyone who attended received a gift of a miniature C3PO from Star Wars or a LEGO Friends accessory.
"We never miss LEGO Day. It's one of our favourite events as a family. This year it became extra exciting with the parents allowed to take part in the building competition. You could really see how the children were enjoying it all. There aren't many events where the whole family can not only attend but also participate together. It's a really unique experience that brought us closer as a family and I suggest anyone with a young child to come next year. You won't regret it," said Mr. Pathum Rodrigo,fatherof a child who took part in the LEGO Challenge.
LEGO® bricks can be easily combined in innumerable ways allowing for fertile ground for a child's creativity. Based on the underlying philosophy of learning and development through play, LEGO® has been a family favourite for decades. Created by the LEGO Group, a privately held, family-owned company with headquarters in Billund, Denmark, and main offices in Enfield, USA, London, UK, Shanghai, China, and Singapore, and guided by the philosophy "only the best is good enough" the LEGO® bricks aim to inspire and develop the builders of tomorrow through creative play.
Kiddies and Toys International (Pvt) Ltd, Eguardian Lanka (Pvt) Ltd, DCS International (Pvt) Ltd and Digital Engineering Solutions (Pvt) Ltd are the main subsidiaries of LIMRA Holdings. The subsidiaries represent world renowned brands in their respective fields such as Farlin, LEGO, Chicco, Leapfrog, Mattel, ESET, Fortinet, Symentec, HP. LIMRA Holdings which has business interest in industries of ICT, mother care, baby care, toys, and engineering is mandated to identify, invest, acquire and manage business ventures profitably.