---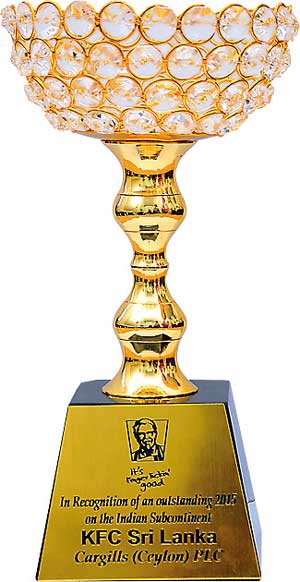 YUM! Brands, the global res taurant company, recently recognized KFC Sri Lanka as the Outstanding Performer for 2015 within the Indian Subcontinent region. KFC Sri Lanka received this award for its exceptional sales growth achievement throughout the year 2015. Launched in 1995, KFC Sri Lanka is now a go-to favourite for Sri Lankans because of its unique taste and quality.
With 27 restaurants located islandwide, KFC Sri Lanka has become a much beloved household name. Cargills Ceylon PLC has successfully infused local tastes with the international brand, thereby appealing to a wide customer base. Localised dishes such as the KFC Chicken Buriyani, KFC Spice Rice and KFC Chicken Charger are now served right beside the signature KFC meals that are available the world over. Speaking about KFC Sri Lanka's recent achievement, Restaurants Sec tor COO Niroshan De Silva said, "I would like to thank the team for their commitment towards delivering a great KFC experience to our customers. KFC offers customers anywhere in the country an international dining atmosphere energized with Sri Lankan hospitality.
Our young team is committed around the clock to serve the signature recipe KFC Chicken at the utmost standards across all outlets. The traininEg and development we offer in line with YUM! Benchmarks coupled with focus and discipline has taken KFC Sri Lanka to a new league of performance and we will continue to better our game." Cargills is one of the few global franchisees that sources locally, supporting the domestic farming and livestock industry while maintaining internationally recognized standards of food safety and quality. Keeping in line with global KFC standards, members of the KFC Sri Lanka team are highly trained and supported by an organisational structure that encourages and celebrates leadership. Restaurants Sector General Manager Ranil Irugalbandara said, "We are delighted to receive this award for the great work done by our team throughout 2015.
Our loyal customers are the primary reason that we have been able to grow the brand in the country and take the taste of finger lickin' good chicken far and wide." Every year KFC Sri Lanka serves around 10 million meals islandwide. KFC owes its success to the fact that the food at KFC is freshly prepared daily in-store to ensure its goodness and quality.