---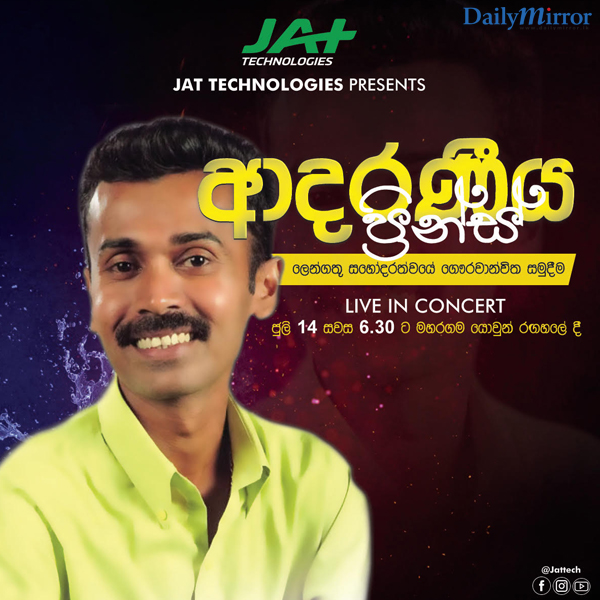 As part of its commitment to support local musicians and the Sri Lankan music industry, JAT Technologies, the leading audio visual and ELV – need full words for ELV) has come forward with Rs. One million towards the 'Aadaraniiya Prince" concert to raise funds for the hospital bills of the well-known singer the late Prince Udaya Priyantha.
This concert is organised by the National Youth Services Council and President of the Sri Lanka Singers' Association (SLASA) Keerthi Pasquel together with Madu Madawa Aravinda, Senaka Ubayasinghe, Tyron Maddumage and Nuwan Samarasinghe
Prince Udaya Priyantha who entered the music industry in 1980s from the National Youth Services Council shot to fame and was a household name until his untimely demise.
His sister Shiromi Priyangika was the only family member he was left with and who looked after him until his recent demise after a long hospitalisation. A total of Rs. 2,538,000 is still due to the hospital for his medical expenses.

The 'Aadaraniiya Prince' concert will be held on Friday 14 July at 6.30 pm at the National Youth Services Council, Maharagama.
Music direction will be by Nuwan Samarasinghe. A total of 29 artistes will participate in this event including Amarasiri Peiris, Edward Jayakody, T.M Jayaratne, Samitha Mudunkotuwa, Nirosha Virajini, Bathiya and Santhush, Namal Udugama, Kasun Kalhara, Chamara Weerasinghe. Tickets are priced at Rs.1000/-, Rs.2000/- and Rs. 3000/-.