---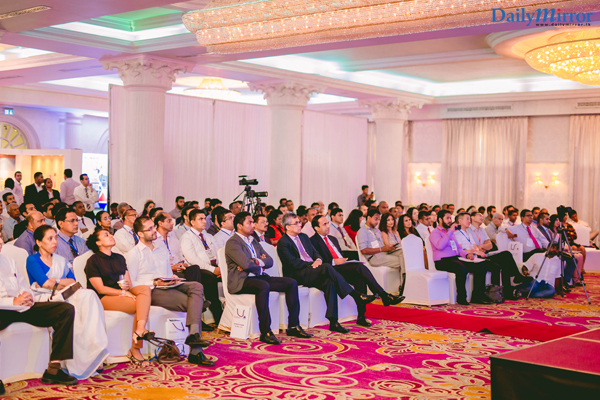 Sri Lanka needs better investor friendly legislation to attract more foreign investors – was the general consensus by industry experts at the recently concluded Investor Forum Sri Lanka, organized by the leading property website
Lanka Property Web
.com and leading realtors RB Realtors and Consultants that was held at The Kingsbury. The event was organized with the intention of giving investors insight in to the best investment opportunities available at the moment.
The idea for the Investment Forum was birthed at
Lanka Property Web
's highly successful "Lanka Property Show 2017" which was held earlier this year. The invitation only event was attended by the investment community, high net worth individuals, and top management from the corporate sector, real estate industry stalwarts, public and private sector officials and members of the media.
Giving a presentation at the event, the CEO of the Colombo Stock Exchange Rajeeva Bandaranaike said, "Investors should seriously look at the stock market as an investment option, where there is money to be made with careful investment".
Also, the CSMO of CHEC Port City, Liang Thow Ming explained the benefits of Port City Colombo and the infrastructure development tied to it that would take place within the next 25 years. He said that they are expected to start sale of land during 2018.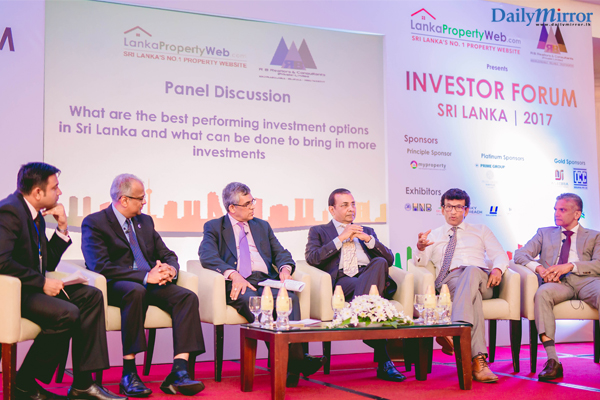 During the panel discussion, Candor's Ravi Abeysuriya stated that buying land in Colombo gave the best returns when compared with other investment options according to his calculations and that of the Central Bank. He also highlighted the need to have REITs (Real Estate Investment Trusts) implemented in Sri Lanka and that its framework is currently being discussed by the relevant authorities.
Thilan Wijesinghe, Chairman of TWCorp and Acting CEO of the newly established Public Private Partnership Unit of the Finance Ministry, highlighted that Colombo should also look at building more retail centers, entertainment hubs, world class hospitals and convention halls to draw different types of tourists and investors to the city.
Michael Shanthikumar representing R B Realtors and Consultants (Pvt) Limited in his presentation explained about many more opportunities available in the real estate industry for projects other than the now common apartment projects and invited prospective investors to seriously consider such options.
Amongst the other key speakers at the event were Theekshana Somaratna (Director, Dwellings Group of Companies), Zhang Bo (Project Director, AVIC Astoria) and Pranav Desai (Director, Iconic Galaxy).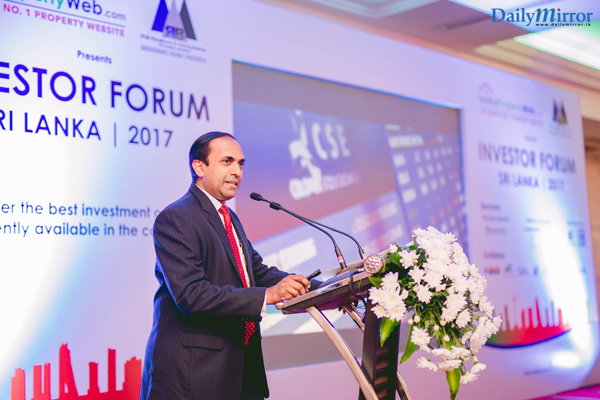 Rajeeva Bandaranaike
The panel discussions were moderated by Sunil Subramanian of JLL, with Thilan Wijesinghe (Chairman, TWCorp), Alex Lovell (Chairman, UB Finance), Ravi Abeysuriya (Group Director, Candor), Christopher Joshua (MD, Access Engineering) and Anand Sundaram (CEO, Colombo City Centre) as panelists.
The event was concluded with the panelists discussing on the various investment opportunities that currently bring in the best returns and highlighting what should be done to attract more foreign investment in to the country. Speaking after the event, the Managing Directors of the JointOrganizers said that they were extremely happy with the outcome of the event and that it managed to shed a vast amount of valuable knowledge to the participants on the current investment opportunities in the country and what the outlook will be in future.