---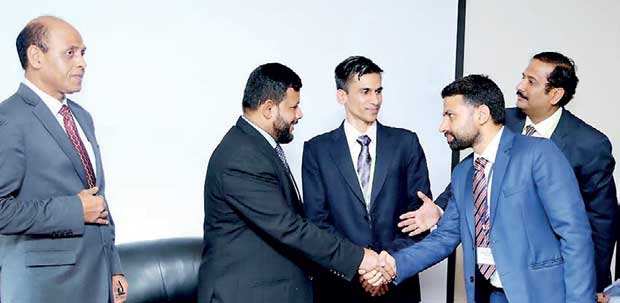 Industry and Commerce Minister Rishad Bathiudeen (second from left) meets the Confederation of Indian Industry delegation to Colombo on June 1 as Ramesh Kumar Mutha (Leader of business delegation to Colombo from CII(far left) and Deputy Manager of Petronet LNG Ltd Manik Jhamb (third from left) look on
India's largest liquefied natural gas (LNG) player, Petronet LNG, Ltd will be investing in a piped natural gas supply system for Sri Lankan households if the Sri Lankan government gives the green light, a press communiqué from the Industry and Commerce Ministry said.
"We will revolutionize the supply system here, and we will introduce pipe-borne LNG supply to households, thereby removing the need for the use of cylinder based method. It's a large-scale project and we are ready for entry upon the go ahead," Petronet LNG Deputy Manager Manik Jhamb said.
He was in Colombo with the Chamber of Indian Industries Delegation, which called on Industry and Commerce Minister Rishard Bathiudeen.
"Your efforts can strengthen the local gas market," Bathiudeen said.
Jhamb said that the new operation will be cleaner, and that it would remove the need for LPG cylinders.
Piped natural gas involves the importation of LNG and processing it back to gaseous form prior to delivery through pipes. It delivers uninterrupted energy for cooking on a stove at home, as long as enough gas is being supplied to the system, unlike LPG, where cylinders need to be exchanged once depleted.
Currently, state-owned Litro Gas Lanka Limited and the privately held Laugfs Gas PLC supply LPG for Sri Lanka's cooking needs.
Litro Gas Lanka owns the country's only LPG terminal, while Laugfs is currently constructing one as well, to service both local and regional LPG needs.
Petronet LNG is a Joint Venture between the Indian government and India's leading oil and natural gas industry players including GAIL (India) Limited, Oil & Natural Gas Corporation Limited, Indian Oil Corporation Limited (IOCL) and Bharat Petroleum Corporation Limited.
One of the partners, IOCL, owns Lanka IOC PLC, which has a network of fuelling stations, and imports and distributes petroleum, bitumen and bunker fuel. It also blends lubricants in a local plant.