---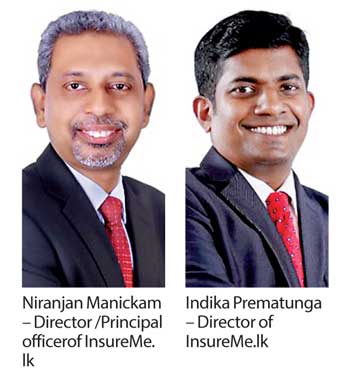 Ever since its formation over many years ago in the coffee houses of London, when ship owners and wealthy businessmen pooled their resources to offer protection against mishaps at sea for ships that set sail, the scope of insurance has continuously developed offering protection in manyother areas.

Today there are many types of insurance policies offering individuals for assets such as Vehicles, Home and for the Life,Health and Travel needs. Health policies could be arranged to cover expenses incurred either locally or overseas. Corporates too could obtain similar covers for their Property and Employee Health with the latest addition to the insurance policy portfolio is Cyber Risk Insurance in the digital era.

Insurance companies have packaged polices to cater to the most commonly sought types of insurance but are also able to design covers to suit your needs. While most people are happy that their insurance arrangement has helped them to overcome an unfortunate loss, there are also segments of people who are very disappointed that their insurance did not fulfil their expectations.

Insurance pay-outssolely depends on the basis the policy has been arranged or purchased and there are many factors which needs to consider or understood in the purchasing process. The risks faced by individuals and commercial establishments are many and different. Insurance companies are unable to provide protection against all such exposures but have developed products against some of these risks, catering to most needs across various people segments and business lines.

Some of the key factors which needs detailed attention when arranging an insurance is thescope of the cover offered by a policy, risks which are not covered and specified as exclusions, conditions to be adhered by you during the period of the cover, the amount would have to bear on each claim stated as Excess and very importantly the value of the coverageknown as Sum Insured/Limit purchased.Further, the policy terms and conditions offered by the insurers very often differs from company to company as it is based on their experience and strengths.

Commenting on this, Niranjan Manickam – Director /Principal officer of InsureMe.lk said, "There are many areas to ponder when arranging an insurance by your self, whichcould be overwhelming. But do not worry as help is at hand.Entities such as us operating under license from the Insurance Board of Sri Lanka are now able to offer you an independent service to procure a suitable insurance arrangement.

"These services include working with you to review the risks in your business, identifying the gaps in your current insurance program if any or designing a programme, selecting an insurance provider of your choice and the placement of your insurance program while ensuring adequate coverage is obtained at commensurate prices. Claims handling is also part of the service on offer thus creating a "single roof to handle all your insurance needs".

"The value brought to you by engaging an independent insurance professional to handle your insurance needs is immense as they would advise you on the various insurance aspects stated above while also taking care of the mundane insurance activities which freeyour time to focus on building your business or vocation," said Indika Prematunga – Director of InsureMe.lk

InsureMe founded by a team of insurance specialists with the objective of delivering a professional service to insurance customers by offering innovative and convenient solutions. InsureMe team has decades of combined Insurance experience in the main areas of Insurance underwriting, Technical aspects, Claims and servicing, Insurance Finance, and Marketing. InsureMe is probably the only insurance broking company with such a diverse skill set.

InsureMe Insurance Brokers (Pvt) Limited is a Licensed Insurance Broker of Insurance Board of Sri Lanka and offers both General Insurance and Life Insurance Solutions for the corporate clients.