---
Huawei, a leading global provider of ICT infrastructure and smart devices, recently announced its procurement results for 2018 in the South East Asia (SEA) region, which amounted to US$ 608 million.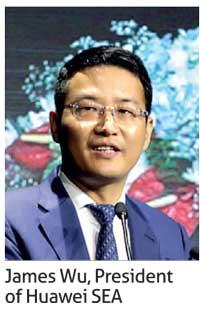 In Thailand alone, it reached US$ 196.3 million, followed by India (US$ 146 million) and Hong Kong (US $ 105.3 million).

From 2016 to 2018, total procurement in the region amounted to US$ 2.09 billion.
Huawei established its SEA regional headquarters in Thailand in 2015.

The regional office includes a Training Centre, a Customer Solutions Innovation Centre (CSIC) and an OpenLab and covers 10 markets, namely Sri Lanka, Bangladesh, Cambodia, Hong Kong and Macao, India, Laos, Myanmar, Nepal, Thailand and Vietnam. The forecast procurement budget for the SEA region in 2019 is expected to grow further, at US$ 652 million.

These figures were revealed during Huawei's 2019 SEA Core Partner Convention at The Conrad Hotel in Bangkok.

In the past 3 years, Huawei's collaboration with its 1,900 plus partners generated more than 45,000 work positions in its suppliers' companies.

More than 125,000 telecom engineers were trained in the region, with over 98,000 receiving professional certifications. Huawei implemented more than 300 quality system inspections at its mainstream partners, helping over 130 companies pass ISO or other relevant certifications.

"Southeast Asia is an emerging market, and a powerful engine that connects innovation and business. Huawei and its partners in the region complement each other superbly.

Value creation and sharing across the entire industry chain is our future. We should combine our excellent resource capabilities and create a collection of high-quality resources to improve our competitiveness together," said Huawei SEA President James Wu.