---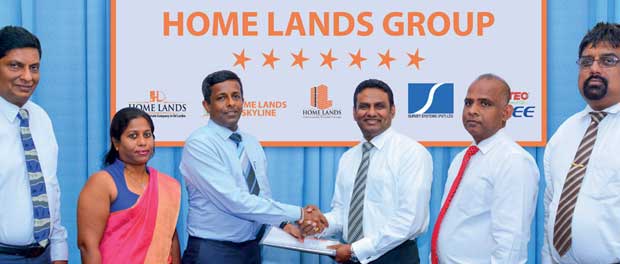 Home Land Group Chairman, Nalin Herath handing over of the strategic partner sponsorship to Postgraduate Institute of Management Alumni Association (PIMA) Chairman Nishantha Gunasekara
Home Lands Group has come forward as the strategic partner for Postgraduate Institute of Management Alumni Association (PIMA).
To mark this partnership between the two organizations, Home Land Group Chairman, Nalin Herath handed over the strategic partner sponsorship to Postgraduate Institute of Management Alumni Association (PIMA) Chairman Nishantha Gunasekara. Home Lands Group Director Harshani Herath, Home Lands Skyline (Pvt)Ltd CEO (Sales and Marketing) Harsha De Alwis, Postgraduate Institute of Management Alumni Association (PIMA) Director Jayalal Hewawasam and several other representatives were also at the event representing each organizations.
The Postgraduate Institute of Management (PIM), one of the pioneering providers of an MBA, MPA or equivalent qualification, is now widely recognized for high quality management education across Sri Lanka. The alumni of PIM are the members of PIM Alumni Association.PIM alumni play leading roles in organizations around the world and are uniquely committed and responsive to each other, the institute and students. PIMA being consisted of leaders with competence, skills and higher caliber, they are on the way of creating a platform of breeding generations of highly skilled , knowledgeable personalities and corporate giants who are not only excelled in what they do but also are looking forward to share their knowledge for the future to come.
Therefore, having realized the importance of a knowledge sharing institution of this magnitude, Home Lands Group finds this partnership as a platform to commit to the betterment of the society through uplifting and partnering in any attempt that encourage knowledgeable generation.
Home Lands Holding (Pvt) Ltd, being the number one real estate company in Sri Lanka, has created its name as a better service provider to the society not only through land sales but also developing decent living spaces for the society.
According to the officials, currently 727 apartment units are under construction by its real estate development wing, Home Lands Skyline (Pvt)Ltd. Being such a corporate giant who always look forward to create a decent living for the society, it also keeps their eye on having a strong vision t
Over the years, Home Lands has been partnering in events that reflect the value they believe in, to ensure that they play an active role in embracing Corporate Social Responsibilities.
This strategic partnership with Postgraduate Institute of Management Alumni Association (PIMA) will be a momentous step towards for more fruitful events that will share cutting edge knowledge among the generations that will shine in the corporate sector.