---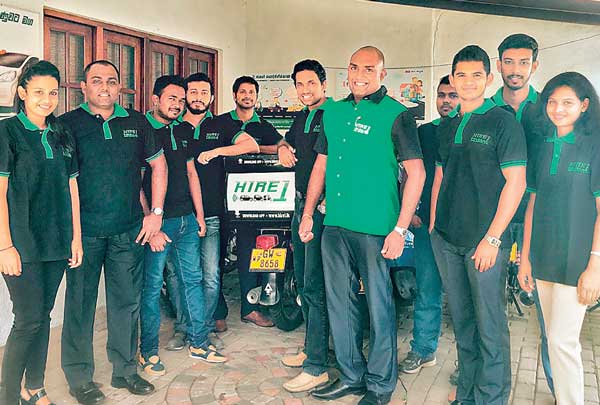 Revolutionising Sri Lanka's courier and logistics space with a novel approach of on-demand delivery for both businesses and individuals, Hire1's courier and fleet management app-based enterprise clinched top honours at Venture Engine 2016.

Hire1, one of 200+ entrants for this year's awards, pitched to the jury in the top ten short-list, and was selected as the Overall Winner in addition to receiving the inaugural Impact Entrepreneurship Award, for the wide social and market impact of the concept.

The annual Venture Engine Awards, a project by Blue Ocean Ventures and the Indian Angel Network, seeks to unearth and challenge Sri Lankan entrepreneurs to expand their businesses and platforms showcasing innovative and creative solutions.

Now into its fourth year, Venture Engine plays a significant role towards the potential success of local startups, recognizing them and helping them to reap vital funding as their businesses scale up.
Founded by Harvard Business School Graduate, Yeshanth Gunewardena and Indika Tantrigoda, a SLIIT Honours Graduate and Tech entrepreneur, Hire1 was launched in 2015 and allows users including businesses, merchants and individuals, a hassle-free approach to logistics, to pick up or deliver anything, anywhere in real-time.

Founder Yeshanth Gunewardena outlined the opportunity he envisioned to move into this open space saying "Our mission in Sri Lanka is to help businesses grow by reaching the customer's doorstep in the shortest time, and doing this by empowering existing transport providers."

Venture Engine Co-Founder Blue Ocean Venture Capital's Prajeeth Balasubramaniamexplaining what the contest looks for and what it saw in Hire1, said "I would like to congratulate Hire1 on winning this year's Venture Engine. This was a result of an exciting and novel concept and execution strategy. Not only does the Hire1 team epitomise the very best of entrepreneurship, offering up an idea suitable to both adaptability and scalability, they also most importantly possess a drive to succeed that is rarely witnessed. Having gone through an exhaustive programme, and emerging victorious from over 200+ applicants, I have no doubt that Hire1's team will accelerate this start up to the next level in no time".

Hire1's application offers individuals a personal despatch runner delivering according to unique requirements with live tracking of your package. On downloading the app and completing a simple registration process, Hire1 users can then request a driver to collect or deliver documents or packages to and from a determined location and have access to driver details and monitoring, receipt confirmation and customer support hotlines.

Customers can track the progress of their package from request to completion and have access to a range of unique features that are guaranteed to make their lives less stressful. Access to an auto queue for the first available driver, a door-to-door service that is reliable and fast, cash-on-delivery, drivers trained on safety aspects, transparent and uniformed pricing, delivery vehicles assigned according to package sizes and delivery notification for ease of mind are among the many benefits that make Hire1 a rising startup.