---
Hemas Holdings PLC delivered a strong financial performance for the three months ended December 31, 2020 (3Q21), although the October lockdowns slowed some momentum in consumer business, while the group divested its leisure business during the quarter to focus on its core business segments going forward.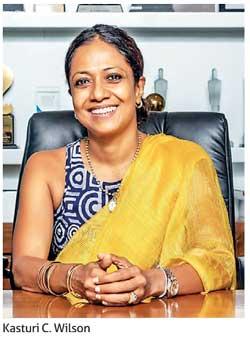 The consumer juggernaut, which is also into hospitals and pharmaceuticals, reported revenues of Rs.17.7 billion for the quarter under review, little changed from Rs.17.6 billion a year ago.

For the quarter, the group reported operating profit of Rs.2.1 billion, up 15.9 percent year-on-year (YoY) as it kept a close tab on costs and overheads such as selling and distribution and administrative expenses.

The group shed its leisure business in December by selling its 55.6 percent stake in Serendib Hotel PLC to Eden Hotel Lanka PLC for Rs.792.9 million. The cumulative loss from this discontinued operation to the group was Rs.601.7 million in the nine months to December, inclusive of the disposal loss.

The sale is part of the group's medium term strategic rationalisation exercise to focus on its core segments of consumer, healthcare and mobility.

"Following this transaction, HHL has classified the leisure segment as a 'discontinued operation' and the said portfolio rationalisation is accretive to HHL's earnings per share and return on equity going forward whilst enabling us to further our investments into core sectors," Hemas Group CEO Kasturi C. Wilson said.
The group reported earnings of Rs.2.17 or 837.8 million for the quarter under review compared to Rs.1.63 a share or Rs.974.7 million in the corresponding period in 2019.

Investors cheered the group's performance as Hemas share ended at Rs.89.00 on Friday, up Rs.1.80 or 2.06 percent.

The segment-wise information showed the group's consumer business, which includes its broader personal and healthcare portfolio, stationary business under Atlas and over-the-counter business under Morison delivering revenues of Rs.7.9 billion for the three months compared to Rs.8.4 billion in the same period in 2019.

While its the personal and healthcare products continuing to fare well, the second wave of lockdowns disrupted the group's stationary business under Atlas due to closure of schools.

"The business was able to partially offset the impact on profitability stemming from the drop-in revenue through the realisation of cost savings supported by the adoption of world class lean manufacturing practices," Wilson said.
This segment delivered an operating profit of Rs.1.5 billion compared to Rs.1.2 billion in the year ago period.

Meanwhile, the healthcare segment of the group continued to perform well as the pandemic added a flywheel to the group's pharmaceutical business. But its two hospitals in Thalawathugoda and Wattala had a tough time due to lower patient footfall.

"The group's pharmaceutical segment, Morison and Pharmaceutical distribution business experienced steady year-on-year performance across most of the key therapeutic segments, whilst the prescription-driven antibiotics segment witnessed a slowdown resulting from increased health awareness and good hygiene practices," Wilson said.

"During the quarter under review, our hospitals business encountered numerous challenges such as lower patient footfall and cost increases on account of the stringent adoption of COVID-19 related health and safety protocols.
Both Thalawathugoda and Wattala facilities reported an average occupancy of 48 percent for the quarter against 60 percent occupancy last year," she added.

This segment generated revenues of Rs.9.3 billion, up from Rs.7.9 billion in the corresponding period in 2019 and the operating profit rose to Rs.657.8 million from Rs.638.8 million.

Meanwhile, the group's mobility business which offers 3PL services witnessed some slowdown in the business due to congestion at the port following the second wave of lockdowns.

This segment reported revenues and operating profits of Rs.458.1 million and Rs.139.9 million compared to Rs.738.8 million and Rs.112.6 million respectively in the same period in 2019.

"However, improved year-on-year performance at group's logistics business, Spectra drove the growth in sector profitability. Both container depot and distribution centre verticals witnessed improved occupancy and handling volumes against the corresponding period last year. Spectra was also successful in securing higher margins by way of offering more integrated solutions", Wilson added.