---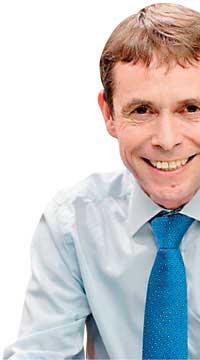 The diversified conglomerate, Hemas Holdings PLC increased its net profit for the quarter ended June 30, 2016 (1Q17) by as much as 68 percent to Rs.696.4 million or Rs.1.22 a share from a year ago, supported by key business segments, interim results showed.

Hemas, which has interests in fast moving consumer goods (FMCG), healthcare, leisure and logistics & maritime sectors saw its top-line increasing by 12.1 percent year-on-year (yoy) to Rs.9.9 billion but the company said it would remain, "watchful of tightening economic conditions for the year ahead," as some business segments of the group could be prone to economic cycles.
Hemas exited the power business a year ago to concentrate on the rest of its business segments.

The group cost of sales rose by 8.6 percent to Rs. 6.1 billion and the group gross profit was Rs.3.8 billion, up 18.4 percent yoy.
"Despite external pressures due to flooding, VAT uncertainty, and increasing inflation resulting in weaker demand, we continued to generate solid performance with FMCG Bangladesh, pharmaceutical distribution, and our new shipping agency Evergreen all contributing well," the group Chief Executive Officer, Steven Enderby said in a statement.
ttom-line increasing by as much as 63 percent yoy to Rs. 509.9 million from a revenue of Rs.4.2 billion, up 11 percent yoy.
Group's Bangladeshi operations have contributed well for the consumer business due to its extended market reach, the company said. Healthcare business has overall performed well largely supported by pharmaceutical business but Hemas hospitals have shown a mixed performance due to confusion created by the application and the subsequent removal of the Value Added Tax (VAT) for the healthcare sector.
"Hospitals performance showed mixed results during the quarter due to the introduction and subsequent removal of VAT for healthcare services and different approaches to VAT introduction by various private healthcare operators creating market confusion," Enderby said. This segment ended a with a net profit of Rs.240.7 million, up 14 percent and earned a Rs.4.3 billion revenue, also up by 16 percent. Meanwhile, Hemas has increased its stake in J.L. Morison Son & Jones (Ceylon) PLC to 90.60 percent as at June 30, 2016. Hemas took control of J.L.Morison in a deal worth Rs.1.7 billion three years ago with the purchase of 71.5 percent voting stake. Non-voting stake has also increased from 50 percent to 84.84 percent.

For the quarter ended June 30, 2016 J.L. Morison posted a net profit of Rs.103.1 million, up 26 percent from a year ago.
Hemas pharmaceuticals command the leadership in the market, the company said.
Group's leisure, travel and aviation unit turned a net loss of Rs.33.6 million from a profit of Rs.44.7 million due to seasonal impact, decreased occupancy in some of the key properties and traditional market performance remaining slightly below expectations.

The company said despite the low occupancy levels seen at Avani Bentota and Club Hotel Dolphin, Serendib Hotels posted a revenue growth of 4.8 percent. Further, the travel and aviation business demonstrated, "mixed results with some GSAs showing improvements in both yields and number of passengers handled, while others faced competitive operating environments.
As a result, the segment recorded a decline in revenues of 4.3 percent," the statement from the company added.

Despite these challenges, the leisure segment increased its top-line by 8 percent yoy to Rs. 775.7 million. The group's logistics and maritime unit increased its bottom-line by 119 percent yoy to Rs.64.6 million while the revenue also rose by 63 percent yoy to Rs. 344.4 million.

Hemas in April was appointed as the exclusive shipping line agent for Evergreen Lines, the operator of the fourth largest container fleet in the world.
Warehouses have also been operating at higher levels of capacity as a result of new customers and container activities that have also remained at elevated levels.
As of June 30, 2016, the Esufally family directly and via their investment companies in concert held a 63.69 percent stake in Hemas while the global asset management company, Franklin Templeton held 12.28 percent.