---
Hemas Hospitals, one of Sri Lanka's leading hospital chains for the past decade, has again been victimized as a result of fake news being circulated among the public.
Over the past few years, certain individuals with disruptive intentions have circulated a fictitious leaflet alleging that Hemas Hospitalsis providing discounts for patients of a specific race or faith.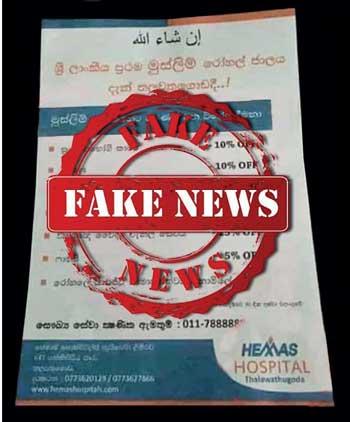 Hemas Hospitals would like to state that this is not true. . This fake news is a result of a bogus leaflet which was circulated in the Thalawathugoda area in 2015.The leaflet also bears Hemas Hospitals logo which has been used unlawfully and illegally. . The said leaflet printed in Sinhala, had been distributed in and around the area and subsequently shared on social media falsely accusing Hemas Hospitals.

Once, the Management of Hemas Hospitals was made aware of this fake leaflet, an official statement was issued and immediate action was taken by reporting the issue to the relevant authorities, including the Sri Lanka Computer Emergency Readiness Team (SLCERT) and making a complaint to the Thalangama Police Station on June 27, 2015 (Ref: CIB 03 322/403).
Subsequently, pictures of the leaflet carrying this fake news continued to appear on social media from time to time, and a second police complaint was also made by the Hemas Hospitals at the same police station on 24th January 2018 (Ref: CIB 2 233/306)

At a time of instability in the country, this has once again resurfaced on social media, in what can only be identified as a ploy to cause harm to the reputation of the Hemas Hospitals Group. Speaking on this, the Managing Director of Hemas Hospitals Dr. Lakith Peiris said, "We are well aware of the rumors circulating on social media. As the Managing Director of Hemas Hospitals and Laboratory Chain, I strongly deny them and guarantee you the accusations are completely false.

"I, as a Sri Lankan am extremely disappointed in the actions of a few who are wrongfully misguiding the community with such fake news. It's at tragic times like this where we should stay united as one nation. I would like to reiterate that Hemas Hospitals is a 100 percent Sri Lankan organization and does not discriminate against any customer based on gender, ethnicity, religion or race.

"We strive to continue providing a healthcare service that is up to international standards while also maintaining a positive ethical culture. We kindly request and urge our invaluable customers to refuse believing and spreading such fabricated news without verification. We have always been a Hospital with the patient's well-being at the fore-front of our aims and that is not set to change".