---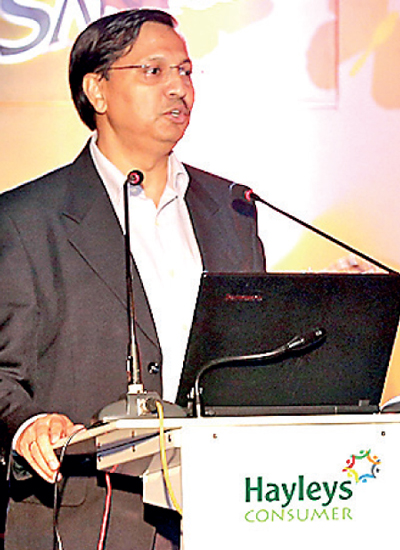 Hayleys Consumer and Wipro India formally launch their partnership in Sri Lanka at an official ceremony held last week. It was an event that saw the blossoming of a partnership in the personal care category between two reputed conglomerates on either side of the Palk Strait.

Hayleys Consumer will oversee the distribution of Santoor soap, the flagship brand of Wipro Consumer Care business. Santoor soap is the third largest selling soap in India and markets soap variants that blend the goodness of sandalwood, turmeric and almond. Sandalwood and turmeric have been essential parts of the Asian woman's skin care regimen for centuries and so is sandalwood and almond milk.

The Santoor range of beauty soaps contains natural ingredients that leave the skin smooth, soft and clear while giving it a youthful glow. It is a soap that is suitable for all skin types and ages. The soap's high content of total fatty matter (TFM) is higher than the best competitors, a feature that prevents the cake of Santoor soap from getting soggy in the soap dish and thus giving it a longer usage without wastage; a soap property that most consumers would value.

Speaking at the occasion Wipro Enterprises Head SAARC Nations Priyadarsh Iranjan said, "Santoor soap has earned the trust of consumers for being consistent in its promise of delivering 'younger looking skin'. As a result, the soaps have gained dominant position in the market place as it fulfils a real need in facial care. Consumer in Sri Lanka can now look forward to a convenient form of skin care in the form of cake of soap branded Santoor.

Hayleys Consumer Products Limited is one of Sri Lanka's well respected business entities that represents a galaxy of some of the world's best brands in Sri Lanka. The partnership with Wipro Consumer Care for its soaps and fragrances is yet another milestone in the company's history as being viewed as a sound distributing and marketing partner for world-renowned brands.

Wipro Consumer Care (WCCLG) is today among the top fast-moving consumer goods (FMCG) companies and is amongst the fastest growing FMCG companies in India. Wipro has a presence in over 40 countries with over 8000 employees worldwide. It has eight production plants in India and seven overseas. Besides India, the business has significant presence in Malaysia, Indonesia, Vietnam, China, Taiwan, Hong Kong and the Middle East.