---
Wants such businesses to repatriate earnings from Sri Lanka back to locally-based bank accounts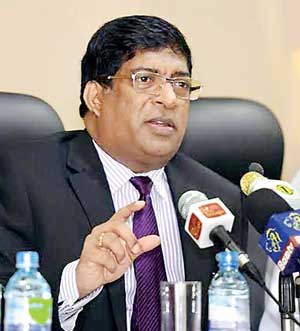 By Chandeepa Wettasinghe
Sri Lankan government, largely influenced by legacy businesses, is likely to bring in new legislation to regulate e-commerce businesses operating in the country, which have disrupted traditional business models.

"They (e-commerce operators) are just operating here. Where is the regulation for that? We will make them bring money earned here back to the country," Finance Minister Ravi Karunanayake told Mirror Business on the sidelines of the 9th Ease of Doing Business Forum organized by the Finance Ministry.

Interestingly, Minister Karunanayake wants e-commerce businesses to repatriate earnings from Sri Lanka back to locally-based bank accounts in the backdrop where Sri Lanka is trying to introduce more liberalized foreign exchange laws, repealing the current Exchange Control Act. The move could be a big blow, specially to budget tourism operators as well as budget tourists coming to Sri Lanka, as Karunanayake said that the Tourist Hotels Association of Sri Lanka (THASL)—which represents larger hotels—had been in touch with the government requesting such regulations.

"With AirBnB we got a request from the hotel association. We're going to get on top of this. There are certain items that will come into force," he said.
AirBnB is the world's largest accommodation provider, aggregating properties ranging from apartment rooms to castles, most of which are not registered and are operating outside a country's formal economy. THASL Chairman Hiran Cooray had said during a United Nations World Tourism Organization Conference held a couple of months back that the growth of the informal sector in the country was a positive development, despite objections to it by his members.
Tourists are looking for authentic local experiences, as shown by the success of AirBnB, online booking engines and social media bookings. Around 48 percent of the 1.8 million tourists coming to Sri Lanka are staying in the informal accommodation sector.

According to AirBnB Asia Pacific Public Policy Director Mike Orgill, who spoke at the Sri Lanka Economic Summit last month, AirBnB reported a 130 percent growth over the 12 month ending July 2016 with traffic of 32,000 tourists, and now has over 8,000 listed properties in Sri Lanka.

"Airbnb guests stay around twice as long as typical guests. They spend more money which is good for the economy. For hosts, 47 percent say the income that they earn helps make ends meet (and) 76 percent of AirBnB properties are outside tourism zones. It helps spread out income into economy," he said.

However, he noted that only 6,000 Sri Lankans had used AirBnb, but the 12 months had witnessed a 198 percent growth as well.
The ministry in charge of tourism too had recently brought in laws forcing all accommodation providers to register, and be brought in line with standards of the authorities, a move the portfolio Minister John Amaratunga denied as being brought on due to influence of the hotel lobbying group.

Hotel lobbyists in some states of the US as well as in European countries have been successful or are in the process of putting barriers to sharing economies such as Airbnb.
However, if the e-commerce regulations are widely implemented, retail sites such as Amazon and Ebay may also be affected.

E-commerce sites such as Paypal in face of stringent exchange regulations in Sri Lanka chose not to enter the country, which had curtailed the country's export potential.
Meanwhile during the 9th Ease of Doing Business Forum the Rent-A-Car Association representative Milinda Mallawarachchi called for e-commerce regulations.
"(We) call for a national policy on regulating e-commerce and sharing economy," he had said.

He noted that while digital companies disrupting traditional businesses through efficiency, better service and quick customer response, is great, it could also be illegal, since such companies operate abroad with credit card payments.
"It is an issue of a fair playing field because Sri Lankan companies can't legally do the same thing with a foreign account and do business here. So a foreign company has an advantage of placing their operation on a tax haven and doing business here," he noted.

He said that e-commerce companies may be operating beyond the local monetary policy regulations, the import/export regulations and the policy requirements of the country.
Karunanayake said that Mallawarachchi's arguments are valid, and asked him to consult the Central Bank to formulate solutions.