---
By Chandeepa Wettasinghe
Evidence-based policies need to be undertaken with regard to the use of glyphosate in Sri Lanka, in order to support one of Sri Lanka's leading export earners, Finance State Minister Eran Wickramaratne said at the Annual General Meeting of the Colombo Tea Traders' Association (CTTA) recently.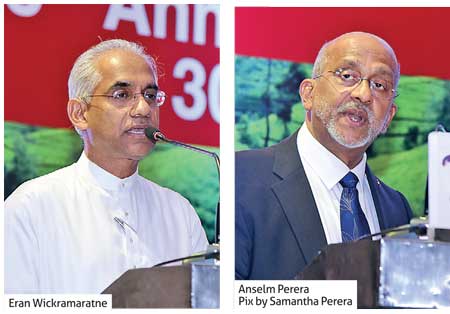 "On the issue of weeding and chemical fertilizer, the issues are known and I've been through the arguments myself, and I would say that we would obviously have to make evidence-based decisions in government, and we must never give up. We must continue to re-canvass the issue," he said.
The tea industry is experiencing escalating costs due to the manual removal of weeds, after the importation of the chemical glyphosate was banned by the Finance Ministry following a Presidential Order in 2015 with virtually no notification to the industries dependent on the chemical.
Wickramaratne was responding to CTTA Chairman Anselm Perera who made an impassionate plea to the government to rectify the issue just minutes earlier.
"We are shocked that an ill-informed single individual who was neither a scientist nor a plantation expert had greater weight with decision makers than all of us in the industry put together. This weedicide is effectively used in Western countries," Perera said.
He noted that due to the plantation sector labour force falling down to 140,000 from 400,000 decades earlier, and increased rainfall which propagates weeds at an uncontrollable pace, manual weeding has to be done more often, and at a higher cost, resulting in soil erosion and degradation.
"This will naturally result in losses of crop and obviously, revenue," Perera said.
He added that such emotional decisions taken on policies without scientific evidence hurt commercial venturing and the country's economy, for which the government must be held responsible.
The main force behind the ban of glyphosate is the Buddhist monk Ven. Athuraliye Rathana, who is practicing politics instead of letting go of power and attempting to achieve nirvana.
Plantation Industries Minister Navin Dissanayake had attempted to persuade the cabinet to allow the importation of 800,000 litres of Glyphosate for immediate use, followed by importation with volume controls using a formula, during 2016.
However, Perera noted that Dissanayake's pleas, along with appeals of the Tea Board Chairman and various industry leaders had fallen on deaf years.
"(Pleas were made) to the two highest offices of the land. To our absolute disappointment, all these pleas carried no weight whatsoever with these high offices," he said.
Glyphosate was banned due to a theory that it was the cause of the massive spread of the Chronic Kidney Disease of Unknown Origin (CKDu) in the North Central and Uva Provinces, despite research from both local and international institutions that there was no evidence to support such a theory.
Experts however noted that farmers in these areas, due to a lack of awareness, applied multiple doses of glyphosate on paddy crops in one go, when glyphosate is required to be applied to the soil, while paddy fields have standing water.
According to the Sri Lanka Planters' Association, finding an alternative to glyphosate and conducting the necessary long-term tests to determine its feasibility to plantations in Sri Lanka could take over a decade.