---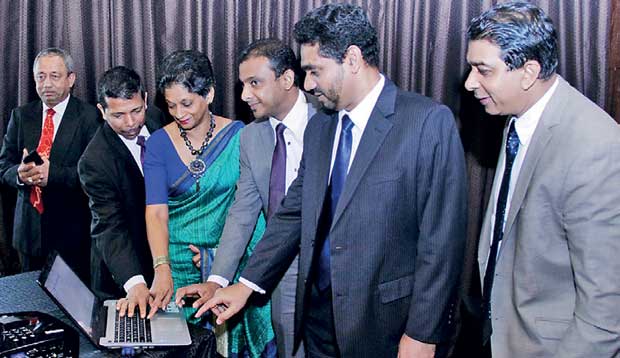 Facets Sri Lanka Chairman Mushtaq Jabir, Sri Lanka Export Development Board Chairperson Indira Malwatta and SLGJA Chairman A.H.M. Imtizam at the Facets mobile app launch
The Sri Lanka Gem and Jewellery Association (SLGJA) announced the launch of the 27th edition of the Facets International Gem and Jewellery Exhibition, at a press conference held at OZO Colombo recently.

To be held from August 31 to September 3, at the BMICH, Facets is the premier event of the Gem and jewellery industry of Sri Lanka. Following its inception in 1991, Facets has gradually grown in scale and size to become one of the most popular exhibitions of its kind in the world. The purpose of the exhibition lies in the need to show off the very best of one of Sri Lanka's most valuable resources.
Facets 2016 saw the introduction of the Premier Jewellery Pavilion and the Gem and Jewellery Mart, both of which received much admiration and interest from visitors, including President Maithripala Sirisena himself. Facets boasts something for everyone and every budget, from precious gems and priceless jewellery to costume jewellery and exquisite branded watches.

Delegations and individual buyers from countries such as Nepal, Myanmar, Hong Kong, China, Russia and France will feature at the exhibition and many more individual buyers are expected to attend the event, thereby increasing international exposure for the local industry.

The exhibition also offers visitors a glimpse into the world of gem and jewellery production. A number of stalls will feature various pieces of machinery and tools used to cut and polish gemstones and craft jewellery. There will also be a number of laboratory stalls where visitors can get a look at the process of examination that a gem is subjected to. They can even test their own gems and receive a certificate proving the stones value and authenticity.

An additional presence this year are industry related academic institutes which cater to youngsters who are interested in the field, to gain wide knowledge and learn of opportunities available in the industry.

The Facets organizing committee has also announced the introduction of a special app, designed specially for the exhibition. The Facets app will provide users with a list of the booth-holders, specific events, a lay out of the booths, information about Facets, the exhibitions rules and regulations and a list of the members of the SLGJA. The app will also enable those planning to attend the exhibition to register online and thus avoid the hassle of standing in line to gain passes.