---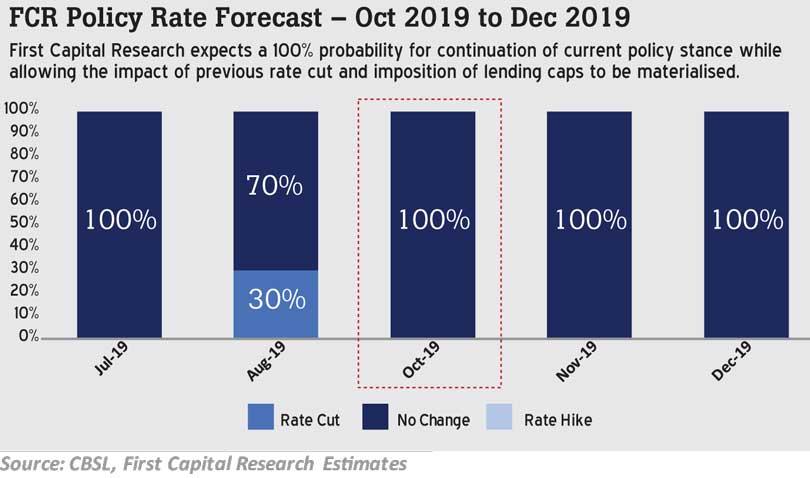 Says policy rates reduction in August also supported this view
Cautions any further rate cut is likely to increase foreign outflows from the country further depreciating the Rupee
Notes the impact of previous policy decisions should be allowed to materialise
First Capital Research predicts zero chance for a third policy rate cut this year ahead of Central Bank's Monetary Policy Review scheduled for this Friday.

"The Central Bank (CB) is extremely unlikely to change its key monetary policy rates amidst the uncertainty hovering with the presidential election around the corner. The reduction of policy rates in August which was way in advance also supported this view," First Capital Research stated in its Pre-Policy Analysis report.

The Central Bank already carried 50bps rate cuts each in May and August and the CB also imposed lending caps on banks in an attempt to increase credit flows to the productive sectors of the economy.

Further, the CB reduced the statutory reserve ratio (SRR) applicable on rupee deposit liabilities of Licensed Commercial Banks by 2.50 percent in order to improve the liquidity in the financial market.
Therefore, First Capital Research believes that a change in policy rates is not required for the year while allowing the impact of previous policy decisions to materialise.

It cautioned that any further rate cut would likely to increase foreign outflows from the country leading to further depreciation of the Rupee while a rate hike is likely to hamper the GDP growth.
"Since the previous rate cut on August 23rd, Rupee depreciated by 1 percent amidst the foreign outflows that amounted to Rs. 13.8 billion which resulted in foreign holdings in government securities declining below 2 percent, the lowest in recent times," First Capital Research stated.

Sri Lanka's second quarter economic growth slumped to a five-year low of 1.6 percent due to adverse economic impacts of Easter Sunday attacks.