---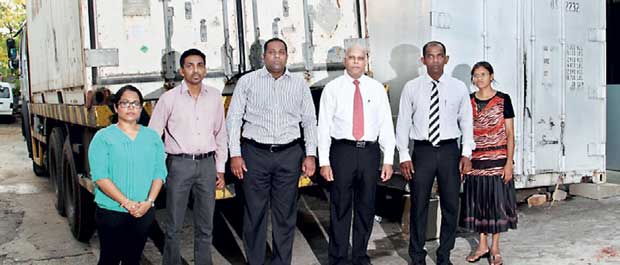 Representatives of Finagle Lanka (from Left): Charuni Manthriratne -Manager - Quality Assurance, Namadeva Jayaweera- Factory Manager, Chandima Fernando – Accountant, Mahinda Ranasinghe - Managing Director, Buddhi Rathnayake - Head of Sales & Marketing, S. Gunasekara - Manager - Research & Development
Finagle, the country's leading bread and allied products manufacturing company, inspired the food industry ­­with its first export of a container load of frozen bakery products which was shipped to the United States of America.
The consignment consisted of a range of innovative products in the form of roast paan, thati paan, Chinese rolls, vegetable roti, kottu roti, roti paratha, godamba roti, malu paan, seeni sambol buns, pol roti along with chocolate and Swiss rolls, all with a typical Sri Lankan flavour to serve the considerably large Sri Lankan as well as the Indian community domiciled in the USA.
With the rapidly changing market trends and with a view to meet the challenges and opportunities of today's market, Finagle has taken this pioneering step in meeting these emerging trends in overseas markets with a focus on supplying a host of value-addition products to meet the growing expectations of consumers.
Finagle is also currently exploring opportunities in Canada, Australia, and in European countries and has plans to expand their range through the development of baked products that suit other communities.
Finagle Lanka's Managing Director Mahinda Ranasinghe said, "This is our pioneering effort in venturing out into exporting our innovative products by the container load. We are taking this opportunity to promote a variety of products that are popular with Sri Lankans all over the world. These products have gone through stringent quality and hygienic testing and qualitative testing done by chefs and focus groups to verify the standards of these products."
He added, "We've also explored other international buyers, who have expressed a keen interest in our products and we will negotiate further for finalization."
Finagle Lanka commenced exporting frozen baked products to the Maldives several years ago. Although in fact there are a few bakers who currently export to markets in developed countries, they are only in small quantities. Finagle however is now exporting their own frozen baked products to the USA by the container load. Finagle was selected as the baker of choice due to the consistent high quality of their products. The current shipment is for Los Angeles buyer Prince International, who will in turn distribute the consignment to 22 states in the USA.
Since all products are frozen, all that is required is to defrost and reheat any one or several of the diverse products, to enjoy a typical Sri Lankan meal or snack which is guaranteed to provide enjoyment and satisfy the palate of the Sri Lankan and Asian consumers and give other communities a taste of our very own cuisine.
Finagle Lanka has obtained ISO and HACCP certifications, and one can therefore be confident that all products meet the highest standards of quality and hygiene. No other Sri Lankan bakery has the ability, or capacity, to freeze baked or par-baked products for export. Finagle serves a host of hotels and allied food outlets throughout the country with these range of products as well.