---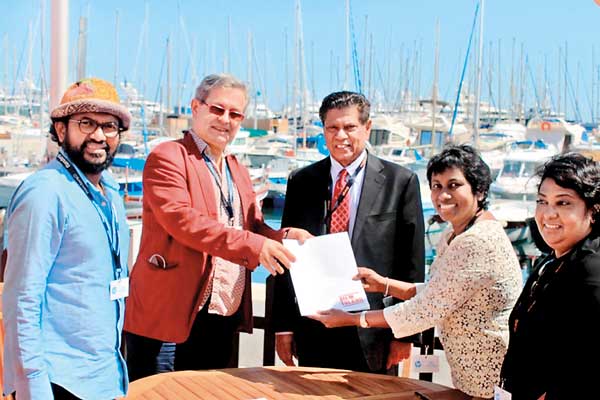 Vimukthi Jayasundara, Director – Film Island, Philippe Avril, GM – Les Film L'etranger , HE Ambassador in Paris, Thilak Ranaviraja, Sandya Salgado, Business Strategist – Film Island & Iranthi Abeyasinghe, Production Directors – Film Island
Film Island (FI), the newest Film Production and Distribution Company in Sri Lanka (www.filmisland.net) signed MOUs with two Indian Film Companies and one French Company at Festival de Cannes recently.

This is Film Island's first step in marketing Sri Lanka as a unique destination for film shoots, offering best in class line production services. While many films have been shot in Sri Lanka in the past, Film Island plans to market the country much more strategically and aggressively, making film production a more lucrative FDI earner for the country. Film Island's mandate is also to identify innovative strategies to grow and develop the industry to International standards in order for the industry to compete more professionally in the world stage of cinema with Art House movies.

Sri Lanka Tourist Promotion Bureau (SLTPB) and Ministry of Foreign Affairs together with the Embassy in Paris, enabled the current service providers to market Sri Lanka at the Festival De Cannes, by providing the necessary infrastructure and facilities via a pavilion at the Village International.
This is the first road show of its kind in Cinema Tourism that Sri Lanka has participated in. Having seen the success of being present at Cannes, the government agencies concerned have discussed the importance of planning the next road show at Cannes immediately, with the objective of signing a bi-lateral agreement between France and Sri Lanka.
With focused and aggressive marketing done by the Film Island team at'Festival De Cannes', many collaborations and partnerships were forged for future projects that are expected to roll out in the near future.
French Film Producer Philippe Avril, General Manager of Les Films de l'Etranger signed an MOU with Film Island, to promote Sri Lanka as a unique shooting destination for potential European film productions and also help FI develop broader strategies that would help the overall growth and development of the Sri Lankan film industry which will help the country to be competitive in the international arena. Shiladitya Bora, Film Director / Producer secured line production services of Film Island, for his film Minefieldto be shot in SL, while Drishyam Films signed an MOU to distribute their Independent film productions in SL through FI.

Film Island brings to the industry a team of professionals who will develop sharp strategies and plans that would help Sri Lanka attract film producers from different regions that will promote the country on the platform of Film Tourism, just like what New Zealand, Seychelles, China, South Korea, Malaysia etc have done successfully for their respective countries.

The professionals behind Film Island are,sought after personalities in the film field such as Prasanna Vithanage, Vimukthi Jayasundara and Iranth iAbeyasinghe. This group is aptly supported by Sandya Salgado, Yamindra Watson Perera and Aravinda de Silva as strategic business partners.