---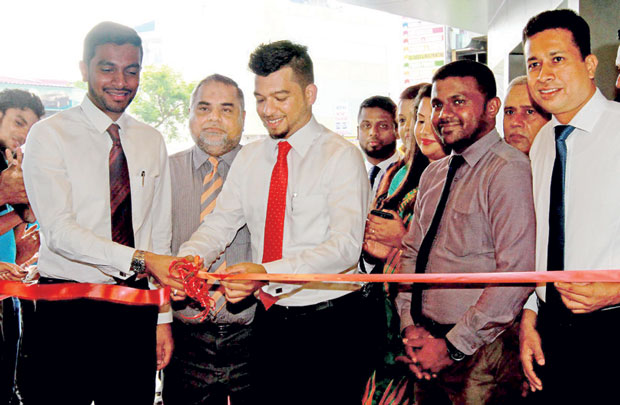 Fashion Bug, one of Sri Lanka's leading retail clothing stores with over 16 outlets islandwide, opened their 17th store in the heart of Wellawatte.
Located at No 38, Galle Road Wallawatta the brand new Fashion Bug is located on three floors and is stocked with a wide range of ladies, gents, and kids wear, while beautiful and useful home ware as well as accessories to suit every occasion and style are on sale for the discerning shopper.
In addition, a dedicated counter for a stunning range of ethnic and fusion wear which includes sarees, shalwars and kurthas will also be available, while closer to Avurudhu, yet another new consignment of goods will be on sale for your selection .
Customers who thronged the store were 'wowed' by the range of goods available while a 10 percent discount on the day of the opening on all goods purchased served as an added incentive.
Speaking at the opening, Director Fashion Bug, Shabier Subian said "Wellawatta has become a shopping hub. As we don't have an outlet between Colpetty and Katubedda we decided it was high time we do so and open up in 'Shoppers Paradise'".
Subsequent to the cutting of the ribbon and lighting of the oil lamp, shopping was the order of the day with something to be had for everyone, with refreshments being served to all the happy shoppers who thronged the store !Fashion Bug was founded in 1994 in Bandarawela with a 7 member team, the first shop being a mere 500 square feet in Bandarawela town. The brainchild of Founders Rizal and Ashan Subian and A.C.M. Thariq, today it has evolved into a household brand that boasts of 18 outlets islandwide . Fashion Bug currently numbers over 1250 Sri Lankan men and women amongst its staff, who hail from diverse backgrounds and ethnicities; hence they constitute a truly Sri Lankan corporate entity. An equal opportunity employer, Fashion Bug prides itself on the fact that they invest in their employees, which they believe is a key to their success . Very high on the Company's list of priorities is the preservation of racial and ethnic harmony and unity which is evidenced by the fact that all communities and religions work side by side at Fashion Bug's outlets and factories.
"Not just Fashion Bug, but for any business to prosper and go forward we must all act as one united country and as one people," said Dr S.H.M Faraaz, Deputy General Manager at Fashion Bug
All outlets currently stock ladies, gents and children's clothing, as well as household linen. Both Eastern as well as Western wear is on sale, while a range of designer saris, kurthis and salwars, together with accessories, handbags, shoes, etc in a range of designs and colours to suit all tastes are available . "In addition to the array of our very own brands, we also feature international brands such as Levis, Crocodile and Triumph in our showrooms, while the increasingly popular amante brand too is on sale" said Subian .
Other than the 1250 employees who are currently on the payroll, Fashion Bug sustains over 2000 Sri Lankan men and women via the supplier chain that manufactures their own brands such as Givo, Posh, Hush, Jobbs, Bigg Boss, Rock Star and Bug Junior. 'Some of our suppliers who have been with us since inception have grown from SMEs to large factories side by side with us and we take pride in their success", said Chairman Fashion Bug, Mr. Rizal Subian. He went on to say that customers could look forward to an array of quality goods that are on par with those available anywhere, whilst current trends will also be catered to for the forthcoming Avurudhu season .