---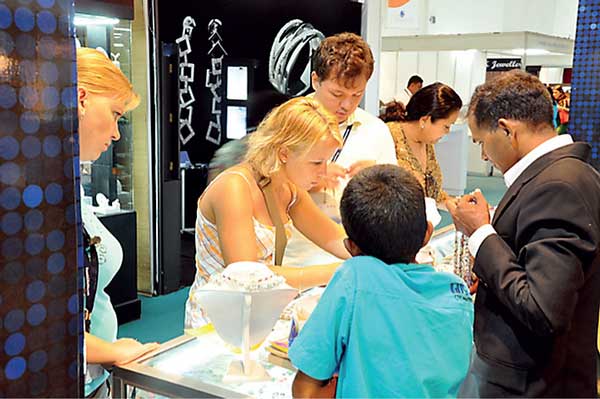 The 26th edition of 'FACETS', Sri Lanka's foremost annual International Gem and Jewellery Show- from 1 to 4 September, 2016 will unveil its Premier Jewellery Pavilion - the first of its kind- displaying the meticulously crafted fine jewellery collections from six of the leading local jewellery houses, namely: Careems, Chatham, Colombo Jewellery Stores, Lalitha Jewellers, Natural Sapphires and Sifani. The collections will showcase Sri Lanka's vast variety of magnificent gemstones; the workmanship of the highly skilled local artisans; and its unique and trendsetting international designs.

True to its name, the Premier Jewellery Pavilion will, target premium high-profile local and international clientele. Located at the main lobby of the BMICH, the pavilion will display a tantalizing array of Sri Lanka's finest jewellery masterpieces and exceptional designs promoting what the country has to offer to the world's luxury markets; as well as a range of exclusive international high-end watch brands.

The Premier Jewellery Pavilion will also serve as a platform for Sri Lankan gem and jewellery dealers to promote their brands and home-grown jewellery to the rest of the world; and as the perfect setting for greater networking opportunities between exhibitors and buyers.

The FACETS organizing committee announced that over 200 local and foreign exhibitors are slated to showcase their gem and Jewellery products at the event. Over 10,000 visitors are expected to grace the four-day international event, which will also see a large number of high profile and influential buyers from around the world converge.

The increase in FACETS popularity over the years has been seen through its diverse attendance and participation. Traditional buyers have primarily come from North America and Europe, whereas more recently there has been a steady increase in visitors from countries such as China, India, Indonesia and Russia. The show has grown bigger each year since its inception with an annual increase in the number of exhibitors.

FACETS is organized by the Sri Lanka Gem & Jewellery Association (SLGJA) -the apex private sector organization representing the interests of all industry- in collaboration with the government's National Gem and Jewellery Authority (NGJA) and the Sri Lanka Export Development Board (EDB).
Held annually in Colombo since 1991 with state and private sector patronage, the 26th edition of FACETS promises better overseas participation and wider international exposure, for both finished products and companies specializing in the varies aspects of the jewellery manufacturing industry.