---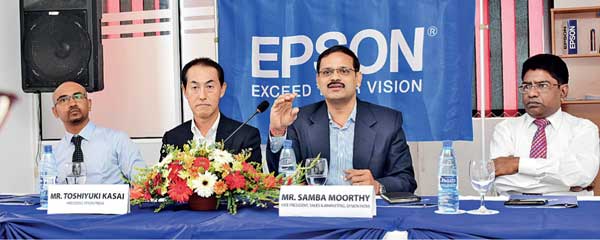 From left: Epson Head of Sales Sri Lanka Jerome Smith, Epson India President Toshiyuki Kasai, Epson India Sales and Marketing Vice President Samba Moorthy and Epson Deputy General Manager R. Shairan
By Zahara Zuhair
Epson, a Japanese digital imaging and printing solutions company, announced its expansion plans in Sri Lanka at a media briefing held in Colombo recently.

Considering Sri Lanka as a key market, it is planning to set up a wholly-owned subsidiary, with the expectation of increasing its reach and presence in the country.

It intends to reach cities as many as possible with its entire portfolio, which include, InkTank printers, projectors, billing printers and dot matrix printers. In addition to that it also sees a potential for its products in dye sublimation textile printers and direct-to-garment printers, eyeing Sri Lanka's growing textile and garment industry.

"Sri Lanka is one of the most important markets for us. We believe this is the right time for us to have a direct presence in Sri Lanka. Our market share in Sri Lanka is less than 20 percent," Epson India President Toshiyuki Kasai said.

"The objective of having direct presence here is our staff can then meet the customers and understand what the customer expectations are. We have a host of products for both home and corporate. Our primary objective is to enhance customer experience with our products. We felt that there is a greater need for us to be directly be present in this market to reach out to end customers, to make them feel the benefit of our products," Epson India Sales and Marketing Vice President Samba Moorthy said.

"We are still exploring Sri Lanka. We have been in the Sri Lanka market for the past two years; we need to appeal this to our customers," he added.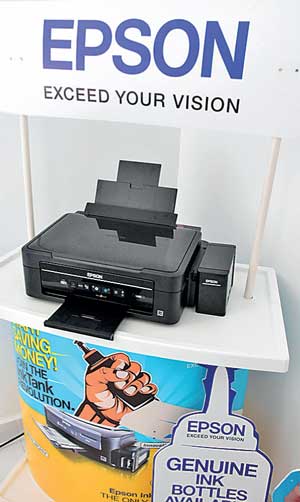 Talking about their products, he said that as the traditional method of using the cartridge printing was expensive, the customers were looking for an economical method and they changed the complete outlook of the market.
"So that is where we changed the complete outlook of the market, from a cartridge printing to an InkTank printing. Many times we noticed that some emerging markets people went to cartridge module printer, to do some type of third party re-engineering.

But the consequence of this was they were able to achieve some economical benefit on the printing, but it had some impact on product performance; quality of print was not as it was suppose to be, to a certain level the customers were dissatisfied. Taking this into consideration we have re-engineered, hearing voice of the customers, brining in the original InkTank," he said.

"With this approach, we have been very successful in meeting the customer expectation, by bringing down the cost significantly, delivering profit efficiency, productivity and reliability - this is a significant shift we were able to bring into this market," he explained.

Compared to laser printers, he said that the efficiency is higher in InkTank printers, printing technology is far more superior and it comes with a micro piece permanent print head, where the customers do not need to change the print head all the time.

"We have an effect which even can meet the business users, because it is able to deliver the speed that is required compared to a laser printer," he said.
Talking about the product being eco-friendly, he said that it saves power significantly compared to a laser printer. "The power consumption is 80 percent down compared to the laser," he said.
They also expect that its 3LCD projectors to be a key growth in Sri Lanka, which offer three times brighter images than the competing technology, according to them.