---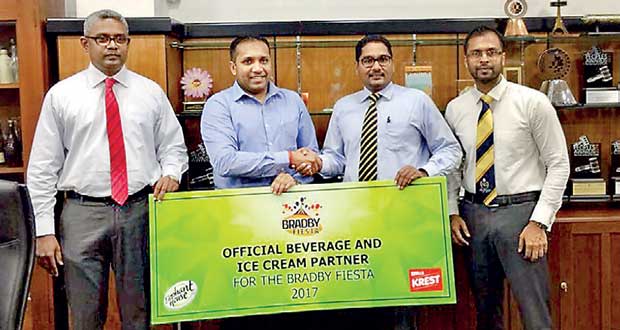 From left: Daminda Gamlath - Head of Beverages Vice President JKH, Belindra Weerasinghe - Head of Frozen Confectionary Vice President JKH, Boshan Dayaratne – Chairman, Bradby Fiesta Organizing Committee, 2017,Nipuna Yatawara - Chairman, Bradby Fiesta Organizing Committee, 2017
Adding to the vibe, grandeur and the festivities of one of the greatest and most anticipated games of school rugby, Elephant House has partnered with the Royal College Union, in presenting the 4th Bradby Fiesta.
Brady Fiesta 2017, organized to coincide with the Colombo leg of the 73rd Bradby encounter, brings that once a year carnival atmosphere to Colombo, as the lions from Kandy and the elephants from Colombo battle it out, as the last year's game ended in a tie. As the 2nd leg of the 73rd Bradby Shield is scheduled to be held on 03rd June at the Royal College Sports Complex, Bradby Fiesta will provide the opportunity for those who missed the opportunity to witness the live action to watch the game live on giant digital screens.
The Ceylon Cold Stores (Pvt.) Ltd., popularly known amongst the Sri Lankan consumer by the famous brands - Elephant House and Keels signed a three year contract today with the Royal College, Union to be the exclusive beverage and ice cream partner for Bradby Fiesta, for three years.
Commenting on his brand's increasing responsibility at the 'Bradby Fiesta', Ceylon Cold Stores PLC Head of Beverages/John Keells Holdings Vice President Daminda Gamlath said, "Elephant House is especially pleased to take on the role of 'Exclusive Beverage Partner' for the first time, giving us the opportunity to showcase a full range for what I'm sure will be an enthusiastic, and thirsty, Along with the country's most popular processed meats, provided by Keells Foods and Elephant House's top selling ice cream range, we fully intend to make the most of this exciting partnership by delighting spectators and players alike, ensuring that this year's Bradby Fiesta is the most thrilling one in history. "
The Fiesta 2017 shall be open from 9.30 a.m till midnight on 03rd June at the Bloomfeild grounds Colombo. The morning sessions of the Fiesta shall feature an Interschool Tag Rugby Tournament with the participation of many schools.
As the dawn sets in with the closure of the game, one of the greatest after parties that Colombo has seen for 2017, shall kick start, with a dazzling performance by the DJ Mira. Mira, a talented young female Disk Jockey from Ukraine, experienced at the international party arena, is expected to take the take the Colombo party scene to its next level. The night will be filled with fun and music with the performance of pioneers in Sri Lankan musical entertainment such as Black, BnS and Natasha Rathnayaka. Bradby Fiesta shall feature many Carnival rides, fun games, food outlets from Colombo's best restaurants, an exclusive Kids' Game Zone, a long bar to chill out the night and many more.