---
The government should implement its proposed fuel pricing formula while the conditions are favourable in order to create stronger macroeconomic fundamentals, an economist said.
"The country must not miss this opportunity to implement the long-delayed fuel pricing formula now that the oil prices have softened," JB Securities CEO Murtaza Jafferjee said.
He noted that at the current controlled market prices in Sri Lanka, petrol, priced at Rs.117, was costing the petroleum companies Rs.8 per litre, compared to Rs.12.50 a month ago, while diesel, priced at Rs.95, was costing Rs.0.45 per litre, down from Rs.6.70 a month ago.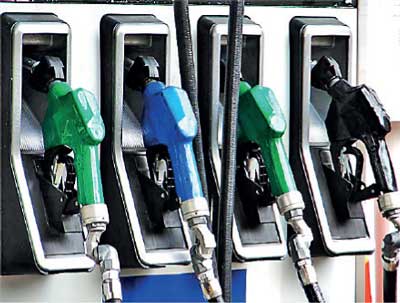 "Due to some unexplained reason the policymakers are not passing on the full impact of the taxes to the consumer and instead making the oil companies bare the loss, which in the case of Ceylon Petroleum Corporation (CPC), will have to be paid by the Treasury," Jafferjee said.
The government reduced the fuel prices in January 2015 as an election promise. Jafferjee noted that in the ensuing period, many other South Asian governments have maintained higher prices in order to collect higher revenue for fiscal consolidation.
"We instead chose to pass on lower prices to the consumer who used it to either increase consumption of fuel or other discretionary items with a large import component. Although international oil prices were down by 50 percent in 2016, in comparison to 2014, the trade deficit increased from US $ 8.26 billion to US $ 9.09 billion," Jafferjee said.
The Sri Lankan government had promised the implementation of a cost-reflective fuel pricing formula to the International Monetary Fund in return for the US $ 1.5 billion balance of payments relief package.
Sri Lanka consumes around 200 million litres of diesel per month and 130 million litres of petrol per month, according to Jafferjee.
He noted that if the current trends hold, the petroleum companies could lose Rs.12.48 billion per year in petrol sales and Rs.90 million per month in diesel sales—a loss which was as high as Rs.1.84 billion per month one month earlier.
Further, he pointed out that diesel was being subsidized after tax, which results in a retail value that is less than petrol, although diesel costs slightly more to produce, is more polluting than petrol and increasingly fuel-efficient petrol cars are entering the market.
"There is also a strong case to gradually introduce corrective taxes to both petrol and diesel to account for externalities. This can be done with increments of Rs.0.5 a litre per month so that the consumer will not feel the pinch," he said.
He also speculated that switching to the price formula would not increase inflationary pressures, since the current high inflation is due to increased taxes, a lower base and weather-related phenomena, which are not persistent effects and inflation is expected to come down over the next several months, although public transportation fares may increase.
"Leaving aside the lack of good public transport that accentuates the demand for private vehicles, underpricing leads to excess consumption creating massive traffic jams on the roads, pressures the balance of payment and results in exporting our meagre wealth to oil exporting countries," Jafferjee added.
He said that in the case of increasing diesel prices causing transportation costs as an input cost to rise, companies have created adequate profit buffers by increasing margins through low commodity prices for their production, benefits which were not passed on to the consumer.