---
By Shabiya Ali Ahlam
State Minister of International Trade Sujeewa Senasinghe said the proposed
Economic and Technology Cooperation Agreement (ETCA) with India, was aimed at developing the country's economy and not to fulfil any hidden political agenda.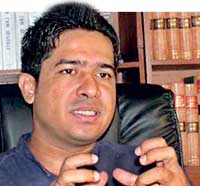 With the government having come under harsh criticism in the recent weeks due to lack of consultancy and transparency over the ETCA, Senasinghe affirmed that no harm would be brought to local industries.

"President Sirisena, Premier Wickremesinghe, Minister Samarawickrama and I will not allow the ETCA with India to bring any harm to our country. With this agreement our genuine intention is to help boost the economy and increase revenue. We have no hidden agendas. We can assure you that," Senasinghe said. "When we go ahead with the agreement our country will surely reap benefits in the near future," he added.
The lack of information in the public domain on ETCA has triggered much speculation about the industries that will be impacted by the trade pact that is aimed at trade in services between the two countries.

To this, Senasinghe asserted that only a "narrow band" of services have been taken into account. Pointing out that no services would be included without private sector consultation, the State Minister, citing 'underwater welding' as an example, said those considered are niche and specialised. "Even though it is called as service expansion, the nature of services covered here is different to what the public perceives." However, he refrained from confirming the sectors discussed under ETCA.

A statement from the Ministry of Development Strategy and International Trade earlier this year stated that the proposed framework envisages exclusion of professional labour liberalization by Sri Lanka other than in two subsectors, ship builders and IT professionals. Furthermore, dismissing the current sentiment where ETCA is believed to be no different to the Comprehensive Economic Partnership Agreement (CEPA), the State Minister implied there was a sea of difference between the two. "The ETCA is in no way similar to the CEPA. What was listed in the CEPA and what was agreed by the previous regime is not what our government is going to implement. We are going ahead with the agreement with a completely different set of proposals."

Senasinghe added that ETCA was not what was portrayed by various parties, who according to Senasinghe were using the agreement for political gain.