---
Top economist and senior banker Dr. Kenneth De Zilwa assumed duties as the fifth Chairman of LankaClear, after being appointed by Central Bank Governor Prof. W.D. Lakshman for a term of three years, effective from June 1, 2021.

He succeeded another veteran banker Anil Amarasuriya, who completed an illustrious six-year period as Chairman.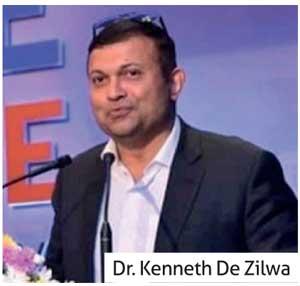 Established in 2002, LankaClear is the operator of the country's national payment network – LankaPay and is regarded as one of the most successful public-private partnerships in the region. Functioning under the guidance and supervision of the Central Bank, the company has been playing a key role towards the financial sector growth and stability by facilitating domestic interbank payments and settlements by driving payment technology innovations and promoting cashless payments in the country, thereby harnessing financial inclusivity.

Being an ex-banker and a top economist, Dr. De Zilwa's appointment to LankaClear comes in at a crucial juncture for the country, where LankaClear's role has become even more critical with Sri Lanka's digital journey gaining vigour with multiple macroeconomic developments and emerging opportunities, which are set to create an unprecedented demand for digital payments in the country.
Having worked at Citibank N.A. and HSBC, Dr. De Zilwa counts for over 20 years of experience in baking and managing business at senior managerial level across all verticals and brings with him a wealth of knowledge and exposure that would undoubtedly add value to LankaClear, thus, contributing immensely to the growth and stability of the financial sector.

Dr. De Zilwa is well known for his expertise in treasury, especially in the areas of risk management, money markets and debt markets, in both domestic and international financial markets, alike.

At HSBC, Dr. De Zilwa played a significant role in handling the derivative markets with his exceptional knowledge and exposure to capital markets and domestic debt products. During his stint at HSBC, Dr. De Zilwa was part of the Global Advisory team for Government of Sri Lanka USD Bond Issuance and worked closely with the senior officials of the Central Bank in drafting guidelines
for the market.

At Citibank, as a Senior Manager, Dr. De Zilwa headed fixed income currencies and commodities (FICC) and was responsible for guiding and developing policy decisions of the bank. During his tenure, he was entrusted with the bank's liquidity, business plans, profitability, product development, currency and interest rate risk positions in addition to ensuring balance sheet growth.

Dr. De Zilwa was also President of the Sri Lanka Forex Association and has been instrumental in setting up of the ACI Market Ethics Committee, Education Committee and a Regulatory Framework while inspiring and leading the association to new heights. Under his leadership, Forex was able to gain full membership of ACI International and make the association internationally reputed, owing to his vast knowledge, experience
and exposure.

He was appointed as Secretary for the ACI Model Code Committee by the Central Bank and was responsible for Sri Lanka's First Interest Rate Option and Currency Derivative Transactions and also developed the First Islamic Finance Rupee Bond (i.e. Sukuk).

Dr. De Zilwa has undertaken consultancy assignments from top firms namely, KPMG, PwC Sri Lanka and with UNDP as a consultant to the Finance and Planning Ministry. He also provides treasury consultancy for Amana Bank PLC as the first Islamic bank, NDB PLC, Union Assurance PLC, Brandix, First Capital Treasuries Ltd, Dialog PLC, the Ceylon Electricity Board and other international firms such as China Harbour Engineering Company.
He has also provided private consultancy to international companies in Sri Lanka and was instrumental in setting up pension, financial services BPO/KPO firms for Australia and the UAE companies in Sri Lanka.

A veteran in business cycles and real economy, Dr. De Zilwa holds a PhD and Master's in Economics from the Colombo University and a Postgraduate Diploma in Development Economics from the
same university.

He also holds an MA in Economics for Development from the ISS Erasmus University of Rotterdam, Netherlands, apart from another Postgraduate Diploma in Bank Management and Finance from the Institute of Bankers
Sri Lanka.

He has contributed to many papers in reputed journals, including the anniversary edition of the Association of
Professional Bankers.