---
Two new appointments to the board also announced
Top lawyer Dr. Harsha Cabral has been appointed as the Acting Chairman of Hatton National Bank PLC (HNB), following the resignation of top professional Dinesh Weerakkody as the bank's Chairman with effect
from March 30, 2021.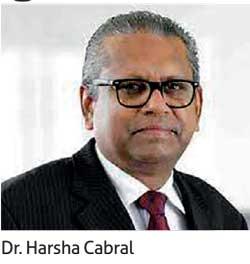 Weerakkody, who served as HNB Chairman for three years, did not offer himself for re-election at the bank's Annual General Meeting (AGM) held yesterday.

The appointment of Dr. Cabral was carried out during an emergency meeting held prior to yesterday's AGM, Mirror Business learns.

Weerakkody's resignation was believed to have been prompted by personal reasons.

Dr.Cabral joined the HNB board in September 2019 as a Non-Executive Independent Director.

The government holds over 23 percent stake in HNB through several State-owned entities,
while Harry Jayawardena-controlled entities have nearly 18 percent stake, though his voting rights are limited to 10 percent. Meanwhile, Devaka Cooray and Dilshan Rodrigo were unanimously re-elected as Directors at the AGM.
Also, HNB yesterday announced the appointment of two new directors—Aruni Goonetilleke as a Non-Executive Non-Independent Director and Osman Chandrawansa as a Non-Executive Independent Director effective from April 1, 2021.

Goonetilleke is a financial services expert with over twenty-five years of experience in regional financial markets. Her last role was Head of Corporate Banking at People's Bank, where she was responsible for a large portfolio of public and private sector clients. Immediately prior to that, she was the Head of Credit for Commercial Banking, at Standard Chartered Bank, Singapore.

She has a Masters in Law from Harvard Law School, Harvard University, USA and a Bachelors in Law (Honours) from the Faculty of Law, University of Colombo. She was a visiting lecturer in law at the University of Colombo. She is on the Boards of several public listed companies in Sri Lanka.

Osman Chandrawansa served as the Controller of Exchange in Central Bank of Sri Lanka from 2009 to 2014 till his retirement. Chandrawansa had a long-term service in the Central Bank starting from year 1975.

He holds a Master of Science degree in Banking and Finance and a postgraduate Diploma in Money and Banking from the University of Birmingham U K.