---
Veteran lecturer and statistician, Dr. Gamini de Silva, has been appointed as the new President of the Institute of Applied Statistics of Sri Lanka (IASSL) with the objective of localization of business paradigm to suit the country and people. The IASSL is focusing on trying to find alternative strategies to solve the contemporary socio-economic issues, which arise from lack of proper information flow among the stakeholders. The vast gap between the producer and market prices of many consumer items, plight of the migrated workers and disparity in the education service delivery by region are a few areas identified by the IASSL. At the same time, the IASSL is planning to devise mechanisms and strategies for standardization of proper use of data in decision-making.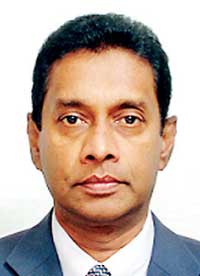 Dr. de Silva holds a B.Sc. First Class honours from Peradeniya (1976) and Postgraduate Diploma in Statistics from the University of Sri Jayewardenepura, followed by one from the US Bureau of Census in the USA (1980/81). He obtained a Masters degree in Labour Studies from the University of Colombo (1996) and Ph.D. in Applied Statistics (2000) completing a research study on constructing composite index of human development for developing countries. He served the Department of Census and Statistics (DCS) for 30 years conducting national sample surveys and censuses, compiling, analysing and dissemination of socio-economic data and developing capacities of technical staff. He retired as Deputy Head of the DCS to join the United Nations. Subsequently, he joined the Statistical Institute for Asia and the Pacific in Tokyo in 2007 as a fulltime lecturer/statistician, serving as an employee of the UNESCAP for six years serving 55 countries in the Asia Pacific region to build their statistical capacities on social statistics including poverty, gender, human development, MDGs, statistical methods and applications and the use of statistical software for data analysis. His consultancy experience spans across serving the Government of Sri Lanka and UNDP in Monitoring MDGs in 2004 through conducting Joint Needs Assessment Survey in Sri Lanka in 2014.
After assuming the post of President of the IASSL, Dr. de Silva has explored his vision and plans for immediate future for the IASSL to promote: enhanced facilities for membership, training and capacity development in statistics, statistical consultancy services on survey research, popularizing statistics among other professions and in education system and promoting the correct use of data/information.