---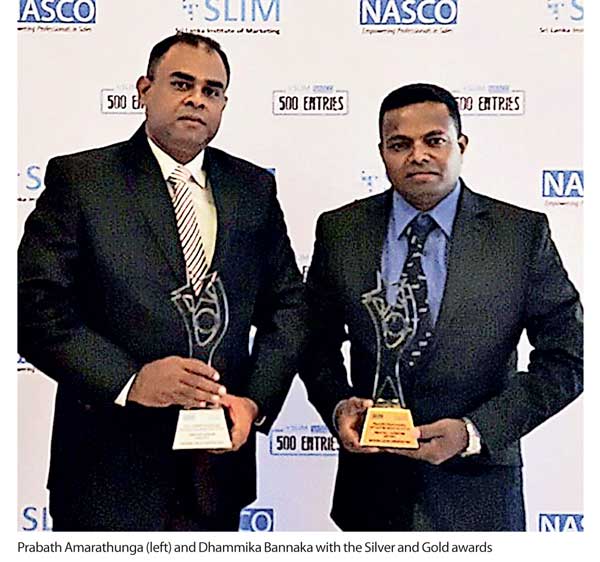 Two executives of CEAT Kelani Holdings won Gold and Silver at the 2016 National Sales Congress (NASCO) Awards of the Sri Lanka Institute of Marketing (SLIM) in two important categories.

Dhammika Bannaka, Senior Sales Executive at CEAT Kelani received the Gold Award in the Sales Executives& Sales Supervisor Category in the Automotive Sector, while Prabath Amarathunga, Area Sales Manager, won the Silver in the Territorial Managers Category in the same sector, the company said.

"At CEAT, we place a great deal of emphasis on professional development, because our people play a critical role in our growth in the market," CEAT Kelani Managing Director Vijay Gambhire said. "We are therefore proud of this achievementof our team members."
The premier event that recognises sales excellence and rewards and motivatessales professionals to achieve greater heights, NASCO presents Gold, Silver and Bronze medals for the best front liners, sales executives and territory managers in sectors such as FMCG (food, beverage, cosmetics and household) financial products & services, insurance, corporate selling, telecommunication, travel & leisure, fashion & clothing, consumer durables, alcohol & tobacco, industrial, healthcare, IT, media, and modern retail. The automotive sector was introduced this year.

CEAT's Gold winner Dhammika Bannaka has been with the company for 13 years and has been responsible for sales in two key districts, Kurunegala and Badulla. Prabath Amarathunga has been employed at CEAT for 15 years, and as area sales manager has been responsible for six districts,Galle, Kurunegala, Matara, Badulla, Kandy and Gampaha.

CEAT Kelani Holdings servicesnearly half of Sri Lanka's overall requirement of pneumatic tyres and exports about a third of its production to countries in South Asia, the Middle East, Africa and the Far East. The company's manufacturing operations encompass the radial, commercial, motorcycle, three-wheeler and agricultural machinery segments. The CEAT brand accounts for market shares of 30 per cent in the radial segment, 51 per cent in the Truck/Light Truck category, 54 percent in the 3-Wheeler segment, 17 percent in the motorcycle segment and 72 per cent in the agricultural tyre category.