---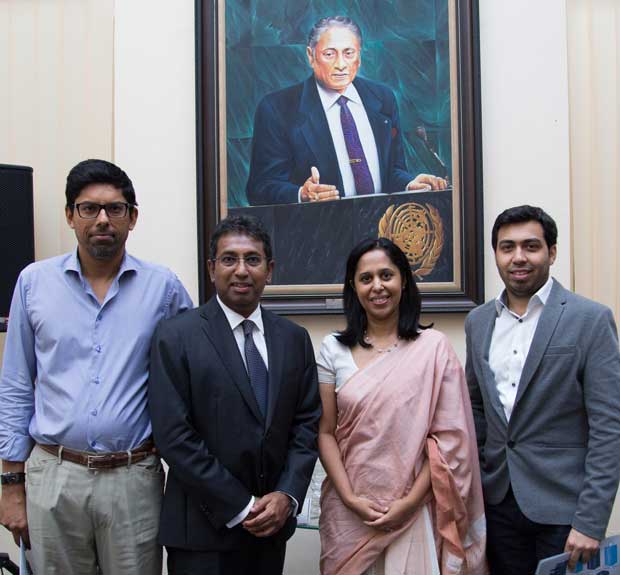 From left: Malik Fernando of MJF Group, former Foreign Affairs Deputy Minister and new Policy Planning and Economic Development Deputy Minister Dr. Harsha de Silva, LKI Executive Director Dr. Dinusha Panditaratne and Ahmed Javed of Expolanka Holdings PLC
The Lakshman Kadirgamar Institute of International Relations and Strategic Studies (LKI), Sri Lanka's leading foreign policy think tank, recently signed a memorandum of understanding (MoU) with MJF Group, the group of companies that manufactures, exports and markets the Dilmah brand.
The MoU establishes a three-year partnership between MJF Group and LKI, to support LKI's Global Economy Programme. Expolanka Holdings PLC, one of Sri Lanka's best known conglomerates, has also committed to facilitate quality research by enabling essential research databases for LKI's research team.
The establishment of the Global Economy Programme at LKI reflects the increasingly key role of economic diplomacy in Sri Lanka's foreign policy. The programme will focus on international trade, foreign investment and tourism and its research aims to ensure that Sri Lanka's economic diplomacy reflects sound research and innovative insights, as well as the potential and priorities of Sri Lanka's private sector.
The programme will be headed by Dr. Ganeshan Wignaraja, who will join LKI as Chair of the Global Economy Programme (supported by Dilmah). Dr. Wignaraja's experience over the last 25 years spans the private sector, international organisations and academia in the UK and Asia.
He has held senior roles at the Asian Development Bank, Maxwell Stamp PLC, OECD, Commonwealth Secretariat and Oxford University. Dr. Wignaraja's expertise covers trade and competitiveness, supply chains and small and medium enterprises (SMEs), infrastructure connectivity, development finance and macroeconomic policy.
LKI Executive Director Dr. Dinusha Panditaratne welcomed these recent developments stating, "LKI is deeply appreciative of these landmark commitments from MJF Group and Expolanka Holdings, which enable LKI to build an exceptional research team with access to international research databases."
She added, "LKI is grateful to Dr. Harsha de Silva, M.P. and Former Deputy Foreign Minister, for initiating the call for research support from the private sector. The funding will enable LKI to scale up its research activities and add compelling new voices to shape Sri Lanka's foreign policy."
Dr. Panditaratne observed that the generosity of Dilmah and Expolanka for research builds on contributions by other highly respected corporates for programmes and communications at LKI, including Hemas Holdings PLC, John Keells Holdings PLC and J. Walter Thompson Sri Lanka.