---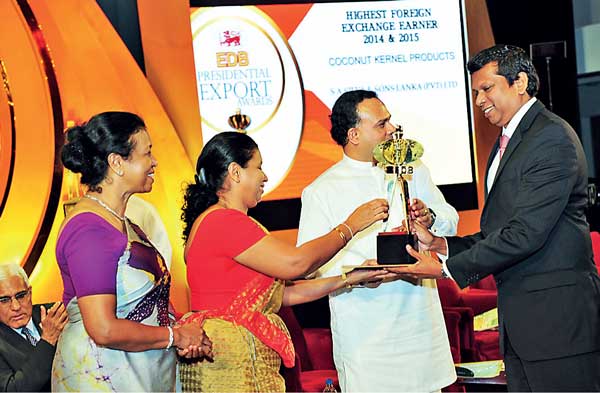 Dr. Mahesha Ranasoma, Managing Director - Dipped Products PLC, accepting the award for "Highest Value Added Exporter in the Rubber and Rubber Based Product Sector" - Presidential Export Award for 2014
Dipped Products PLC (DPL), Sri Lanka's leading non-medical glove exporter, was recognised as the Highest Value Added Exporter in the Rubber and Rubber Based Product Sector in the recently concluded Presidential Export Award for 2014.

Organised by the Export Development Board (EDB) under the auspices of President Maithripala Sirisena, the awards recognise the exponential contribution made by Sri Lankan Exporters to the national economy and to bolster foreign trade for the years 2014 and 2015.

DPL Managing Director, Dr Mahesha Ranasoma on receiving the Award said "We are honoured by this recognition and encouraged to do more towards further increasing our contribution to the development of Sri Lankan exports and the growth of our national economy.

I would also like to add that this award recognises the dedication and commitment of the farmers at the rubber plantations itself, whose output forms the basis of our value added exports. We will continue to invest in our programmes to improve the quality and value of natural latex produced at the farmer level and the livelihood of the many families that depend on the support we provide through our "Firstlight" initiative."

The company has strived to provide hope and support to improve the quality of life of the rubber farmers in remote villages in Sri Lanka. The Firstlight integrated supply chain initiative with rubber farmers is based on internationally renowned Fair Trade principles through which DPL has been able to produce the World's first Ethical Natural Rubber Latex gloves. This initiative is also designed to empower farmers to be self-reliant and to sustain their families by partnering an ethical business initiative in natural rubber production. DPL strives to be the preferred global hand protection glove provider. The company accounts for an estimated 5 percent of the demand for household and industrial gloves in developed and emerging markets worldwide, and are ranked among the world's largest manufacturers in the hand protection industry. Our experience and expertise over the past four decades - combined with continuous product development based on our customers' expectations, preferences and inputs - have clearly differentiated us in the market as a supplier of natural and synthetic latex based, general purpose household, industrial and medical gloves.