---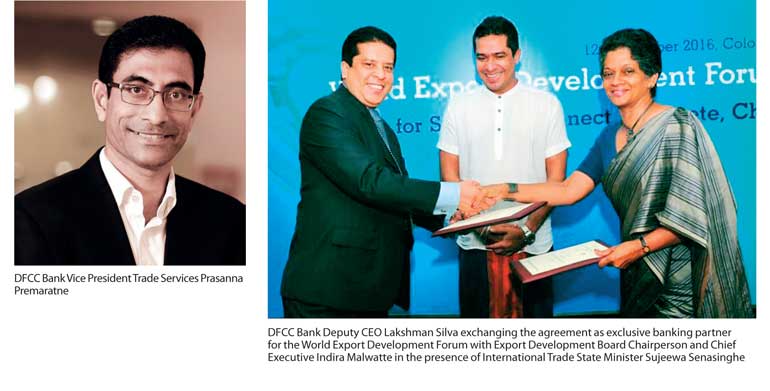 DFCC Bank PLC has tied up with the Export Development Board (EDB) as the exclusive banking partner for the World Export Development Forum (WEDF) set to take place in Colombo on October 12 and 13.

The WEDF is a unique global conference and business-to-business (B2B) matchmaking platform dedicated to supporting trade-led development. It is the flagship event of the International Trade Centre (ITC), a UN body, which brings together over 600 business leaders, policymakers, heads of trade, investment support institutions and international trade development officials to address international competitiveness for developing countries.

The global forum will take place at the BMICH and will be held under the theme 'Connect Compete and Change'.

In reinforcing its commitment towards this event and elevating Sri Lanka's export community to establish its footprint in the international arena, DFCC Bank has launched a suite of value-added services for exporters.

DFCC Bank Vice President Trade Services Prasanna Premaratne, who counts over 25 years of experience in commercial banking and trade services, said, "Exports strengthen the economy by bringing foreign exchange into the country and increasing job opportunities for Sri Lankans. Therefore, the WEDF, which will be held in Colombo, is a momentous achievement for the country and DFCC Bank is proud to be the exclusive banking partner for the event. We believe this international event will be the right platform for exporters to explore new business opportunities. DFCC Bank remains committed to being a strategic partner for exporters, offering financial solutions for working capital and long-term capital expenditure, along with customised services to help exporters – small, medium or large – gain a competitive edge.

In line with this, the bank has launched a bundle of value-added services for exporters, which includes, advising of export LCs and amendments free-of-charge, waiving of courier charges/free delivery of export documents, door-to-door service for pick-up of export documents and tailor-made facilities. We also have a dedicated customer service hotline (011) 2371471 exclusive for exporters."
He went on to stress that uncertainty in traditional export markets and cost of production remain some of the biggest barriers to growth, but he stressed that these challenges can be surmounted through focus on innovation and with the support of the government and financial institutions.
Premaratne added, "DFCC Bank identifies customers' requirements and provides them with appropriate and timely solutions. Our trade services team has an impressive combined wealth of knowledge and experience in trade finance and general banking and is dedicated to fulfilling exporters' needs. Being a fully-fledged Commercial Bank, DFCC currently offers the complete range of services including pre-shipment and post-shipment financing. We believe the aforesaid value-added services coupled with our fast turnaround time will go a long way in giving exporters a competitive edge, by lowering their transaction costs. Therefore, we invite all exporters to enjoy our services and these benefits and grow with us. We eagerly look forward to meeting the export community at the WEDF."